Agenda
February Tuesday 16, 2010, 16:00 - 21:00
Opening Onomatopee Project-Space bleekstraat!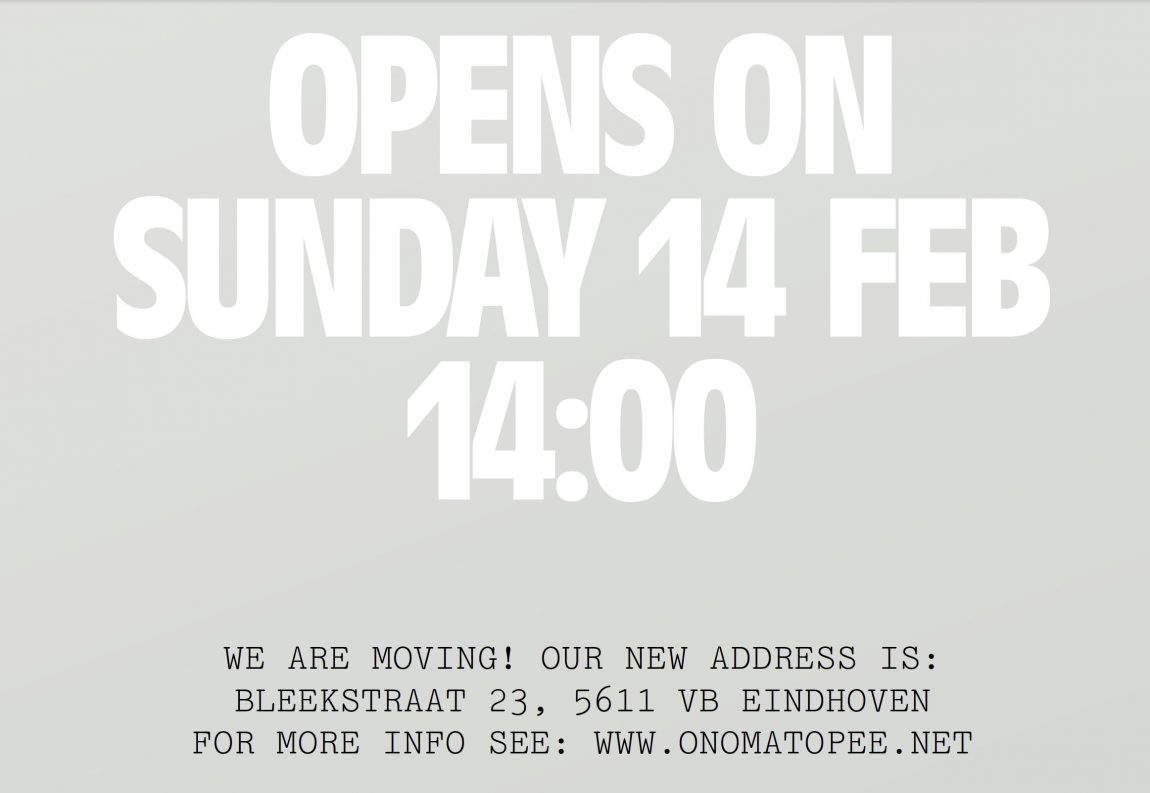 New Space
Onomatopee opens up their new project-space, just about 100 regular man-size steps away from their previous space. With direct access via the street it's now visible to all, accessible to more.
New Programming
NEST exhibition and publication series is a discursive and visual catalyst.
Cabinet is an in-house exhibition series related to editions elsewhere.
Onomatopee 39:
Research project
Gert-Jan Prins  - Cavity: The capacitive version
Taking technological culture's micro to a global macro level: architecture for electromagnetic sociability.
Sound artist Gert-Jan Prins deals with the frequencies of our electronic age.
Between feedback and composition, between the free will of human improvisation and the determinism of electronic laws. Prins operates as a sculptor and an experimenting scientist.
Prins will build a cavity, a micro-electronic filtering device, on a human scale out of huge copper clad circuit boards. Visitors are temped to enter as electromagnetic waves. How will we socialise as such?
Onomatopee 40
CABINET #1
Aeron & Alejandra - The Smell of Deposition
Afterglow on revolutionary monuments
What does time do to place when it comes to our present day idealistic projections onto these? What does time do to place when it comes to the implementation of our hopes and fears onto specific sites where the historic materialisation of similar hopes and fears are presented to us as monuments of revolutions?
Publication: design by Remco van Bladel and Aeron & Alejandra
+ EXTRA: Aeron Bergman & Alejandra Salinas performances
Saturday February 13, 14:00
i.c.w. your-space.
Location: Van Abbemuseum
Regular entrance fee
Onomatopee 38:
NEST #1
RE: Happy Days
The scope of present day lo-fi
The Eindhoven based lo-fi/ post-rock band 'The Rose Frustrates' consists of Mark van der Heijden (a.k.a. Bert), Ramon Hulspas and Michel van Dartel. The Rose and Onomatopee have roots in early 90s lo-fi culture: cutting and pasting, making home recordings, working alone in order to surprise friends with something weird and original. What is lo-fi's current production? The Rose Frustrates and Onomatopee challenged musicians and artist to start cutting and pasting. The result is a tribute to lo-fi culture. The edition comprises three artworks and two 7-inch records.
Onomatopee office and project-space
Bleekstraat 23
5611 VB Eindhoven
The Netherlands
www.onomatopee.net
Onomatopee is subsidised by: Municipality of Eindhoven, Mondriaan Foundation, Fund BKVB, Office for Contemporary Art Norway and Pokon fund!
Location
Onomatopee
bleekstraat 23
Location
Onomatopee
bleekstraat 23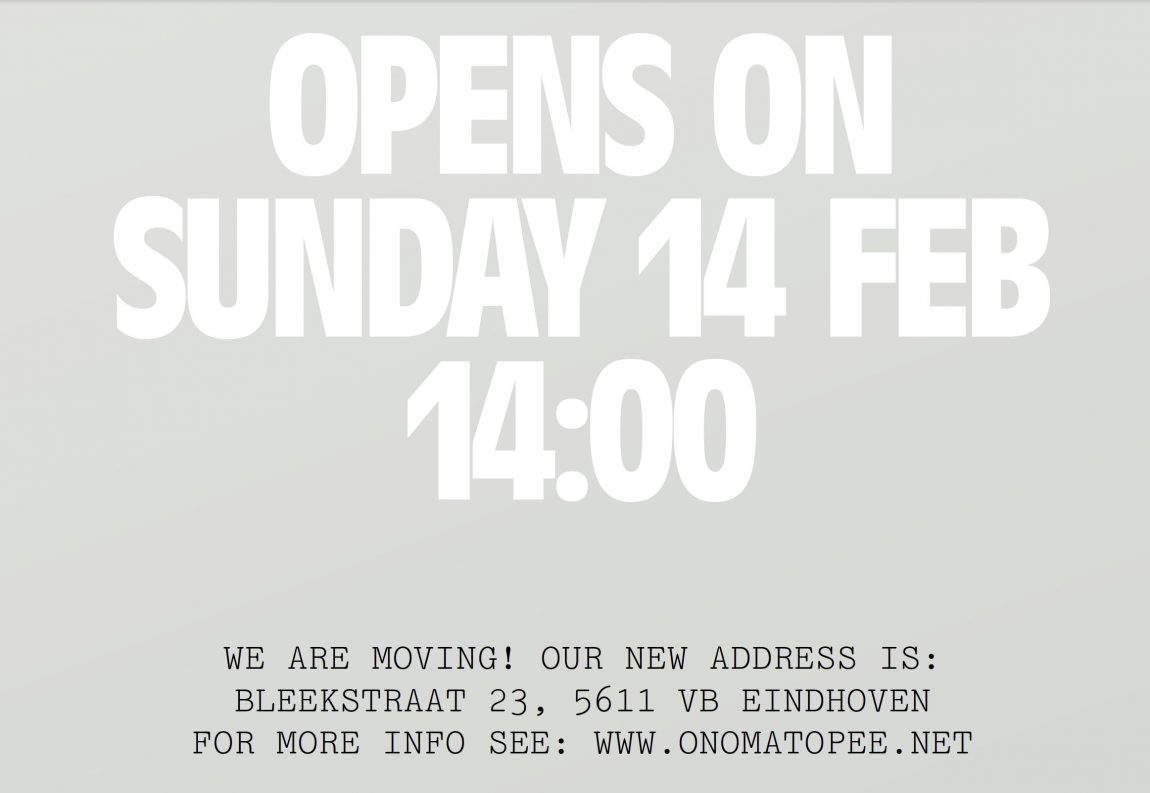 February Friday 15, 2008, 19:00 - 23:30
Opening Onomatopee Project-Space Kanaalstraat!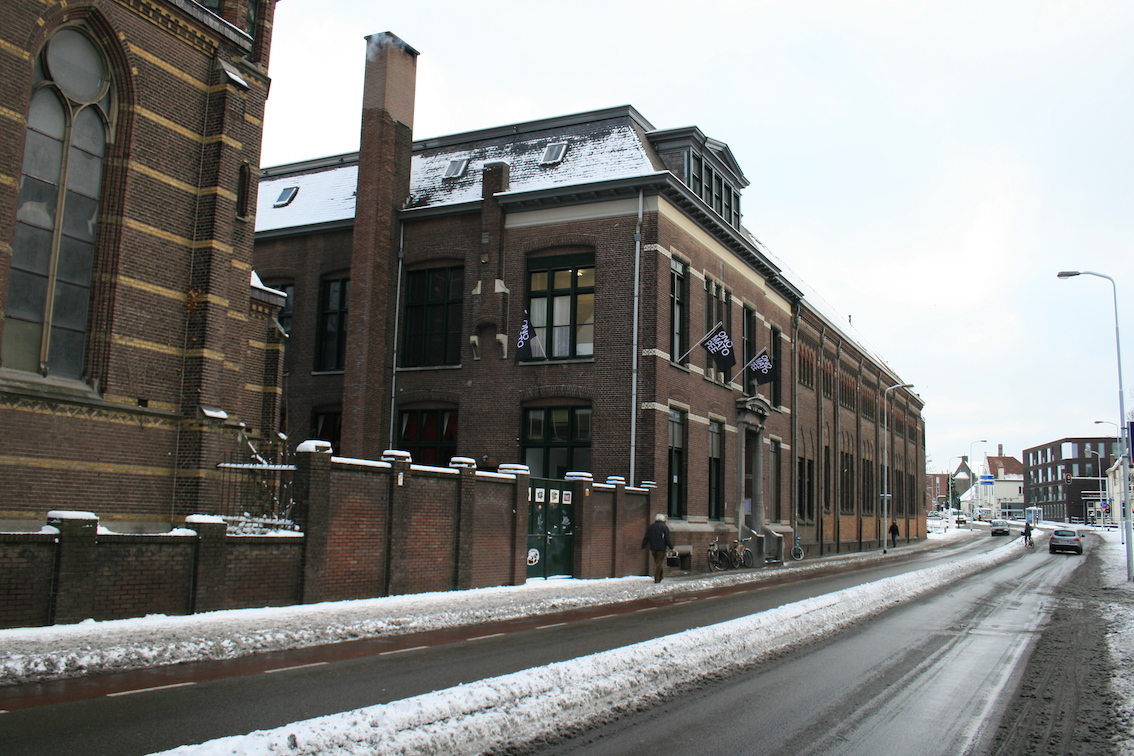 lees artikeltje Uit In Eindhoven HIER
----
Betreft: lancering Onomatopee kantoor en projectruimte
Wanneer: 15 februari, 19:00-23:30
Locatie / nieuw adres:
Kanaalstraat 8
5611 CT Eindhoven
(5 minuten lopen van Eindhoven CS)
Beste,
Sinds mei 2006 is Onomatopee uitgegroeid van hobbyproject tot vaste waarde in het kunst- en cultuurlandschap; van Eindhoven tot het Midden-Oosten en van Amsterdam tot Hongkong vinden onze producties zijn hun weg. Visueel en inhoudelijk, brutaal en onderlegd, parasitair en diplomatiek, werken wij aan zaken die veel licht waard zijn.
Onomatopee is opgericht door curator en schrijver Freek Lomme en grafisch vormgever / muzikant Remco van Bladel. Dagelijkse organisatorische en inhoudelijke leiding is en blijft vooralsnog in handen van Freek Lomme, Remco van Bladel voert de leiding over de communicatie. Samen bepalen zij de inhoudelijke en beleidsmatige koers van Onomatopee. Vanaf februari 2008 zal Sandrijn van den Oever, tevens werkzaam bij de Stadsgalerij Heerlen, aanschuiven als projectleider.
Gelukkig is daar nu een fijne uitvalsbasis: een broodnodig kantoor vanwaar we met nieuwe krachten nog doortastender producties kunnen realiseren, Het biedt de noodzakelijke opslagruimte voor onze uitgaven en heeft als pronkstuk een elegante, kleine galerieruimte waar we onze projecten en edities kunnen presenteren aan geïnteresseerde kijkers en kopers.
We blijven werken zoals voorheen, ons toeleggend op edities waarin poëzie, typografie en geluidskunst centraal staan zoals Vis à Vue, Sliding The Slow Split en Playword en gericht op stevige, site specific projecten zoals Eigen Terrein en Encount. Momenteel zijn we druk doende met de aanloop naar de expositieserie Desarting, waarin de relatie tussen beeldende- en industriële vormgeving benaderd wordt met kunstenaars, designers en critici. De eerste expositie opent gelijktijdig met de lancering van het pand, 15 februari, 19:00. Hier zal ook Lob*** optreden, een multidisciplinair gezelschap geluidsperformers van wie we later dit jaar een uitgave op vinyl zullen uitbrengen.
2008 belooft een mooi jaar te worden.
Wij nodigen u van harte uit om ons een bezoek te brengen!
Graag tot ziens,
Freek Lomme, directeur Onomatopee
Location
Onomatopee
Kanaalstraat 8
Location
Onomatopee
Kanaalstraat 8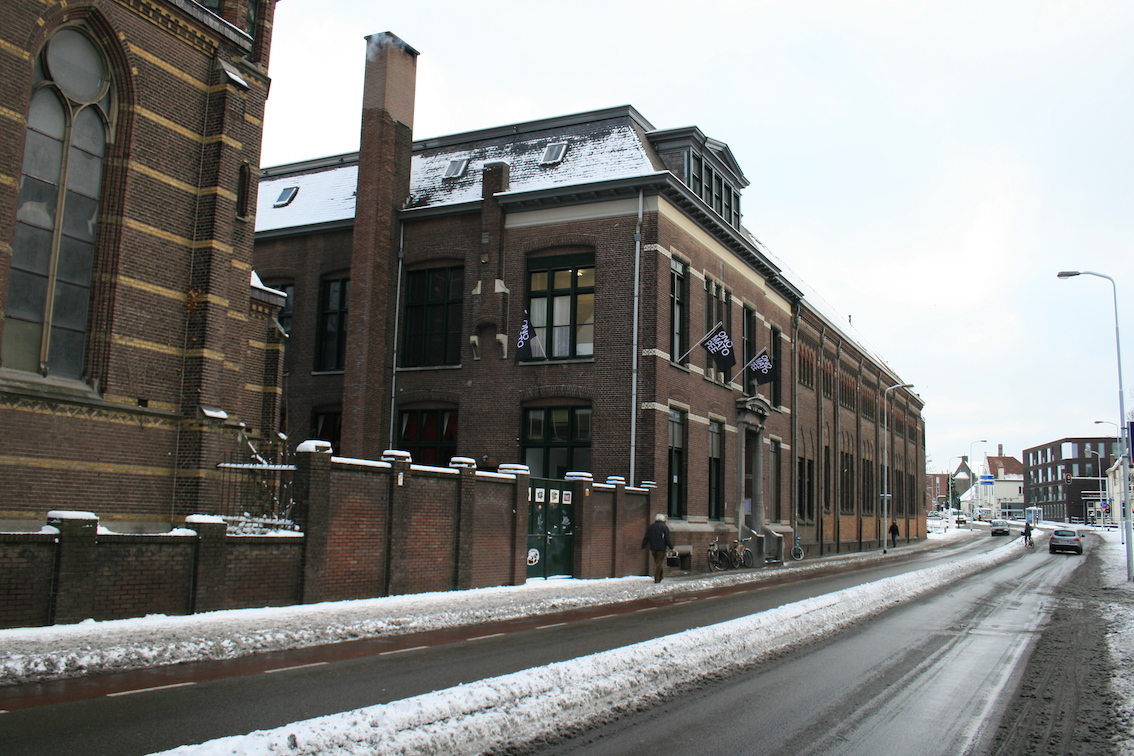 June Friday 9 - Sunday 11, 2006 / Book launch, concert, Filmscreening, Opening
Onomatopee live at Edit festival Eindhoven, 9th, 10th & 11th June 2006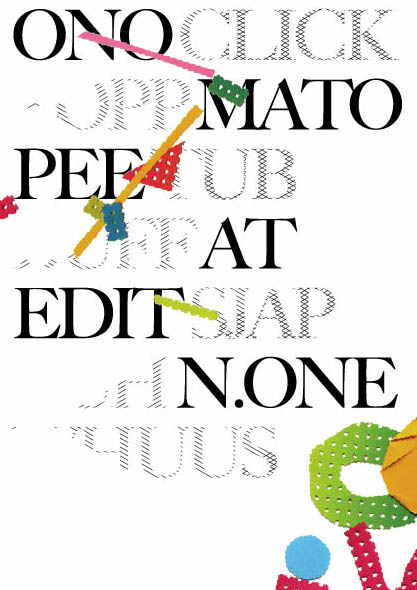 Onomatopee is a publishing label with a focus on poetry, sound art and typography. Productions will vary from books to vinyl and further.
---------------------------------------------------------------
Out Now!
OMP01
7" vinyl 'Playword'
Electronics and guitar noises by Machinefabriek, Jan van den Dobbelsteen, Freiband and Erwin van Looveren based on poetry of Freek Lomme.
OMP02
sonidogris poster
Full colour cut and paste work by Remco van Bladel, Sonidogris
OMP03
Sweater 'Onheuse woorden misstaan'
Typography and graphic design by Eric de Haas.
OMP05
DVD Silent Jokes
18 short films by Jan Leenders.
---------------------------------------------------------------
Onomatopee event!
Live at Edit festival Eindhoven,
9th, 10th & 11th June 2006
Continuous
Private film and music
Live: 10th June, 16:00
Machinefabriek
Jan van den Dobbelsteen
Erwin van Looveren
Location
Klokgebouw at Strijp-S in Eindhoven
Beukenlaan 10151
5616 VJ Eindhoven
http://www.editeindhoven.nl/
Participants
Machinefabriek
Jan van den Dobbelsteen
Frans de Waard
Sonidogris
Eric de Haas
Jan Leenders
www.onomatopee.net
---------------------------------------------------------------
Onomatopee is an Eindhoven and Amsterdam based production label for artist publications and projects that translate text, image and/or sound with a focus on poetry, typography and sound art.
We host productions through presentations and exhibitions, always with a publication.
Publications vary from books to sweaters, from posters to vinyl. Onomatopee produces and supports work on a project basis, stimulating interaction and experimental production. We are open for private initiative.
Our objectives are visibility and sincere experiment.
Location
Klokgebouw at Strijp-S in Eindhoven
Beukenlaan 10151
5616 VJ Eindhoven
Location
Klokgebouw at Strijp-S in Eindhoven
Beukenlaan 10151
5616 VJ Eindhoven