Onomatopee 35, Jonas Staal, Harmen de Hoop, 2008
Activism Doubt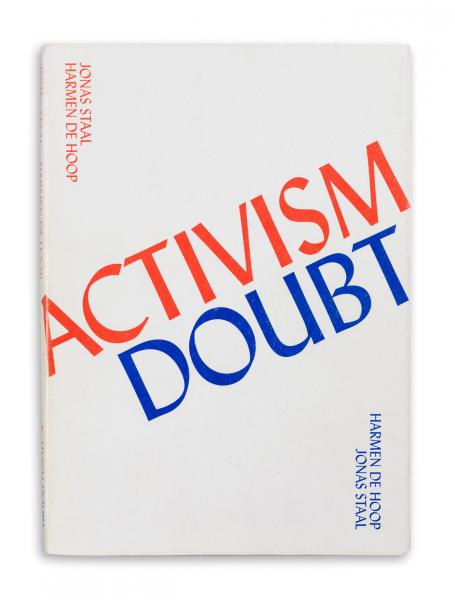 The rules were as follows:
(1)
BOTH WERE OBLIGED TO ACT AS PERFORMERS IN EACH OF THE OTHER'S WORKS.
(2)
AS PERFORMERS, BOTH WERE OBLIGED TO FOLLOW THE INSTRUCTIONS OF THE OTHER.
(3)
EACH WORK HAD TO TAKE PLACE IN PUBLIC,
(4)
THE WORKS HAD TO BE A MUTUAL COMMENTARY ON THE POSITION WHICH BOTH ARTISTS REPRESENT IN THEIR INDIVIDUAL WORK.
The visual report 'ACTIVISM DOUBT', is the vibrant result of a series of public works wherein Jonas Staal and Harmen de Hoop used each other as performers for their work. It resulted in a powerful mapping of artistic possibilities to engage with public space/ the public domain. Mutual tension due to different stances brought in a present-day tension, actual questions of artistic production: is it possible to combine both political as artistic objectives? What is the influence of the artist on the structure and usage of the public domain? Accordingly: what can we learn and experience, being the users of this public domain, when we relate ourselves to this dialogue?
---
Graphic design:Remco van Bladel
Project management:Freek Lomme
With the kind support of: Roodkapje, Rotterdam / Centrum Beeldende Kunst, Rotterdam/ Dienst Kunst en Cultuur, Rotterdam
Type

softcover

Dimensions

170 mm x 240 mm / 6.7 x 9.4 inch portrait

Pages

152

ISBN

978-90-78454-36-6
Language

English

Binding

dust-jacket

Paper

montana wit 115 gr/m2 (dust-jacket) montana wit 115 gr/m2 (inside pages)

Edition

600

Color

Full color and monotone

Printer

Die Keure (BE)
more specs