Onomatopee 120.1, Jim Ricks, 2018
Alien Invader Super Baby - Synchromaterialism (VI)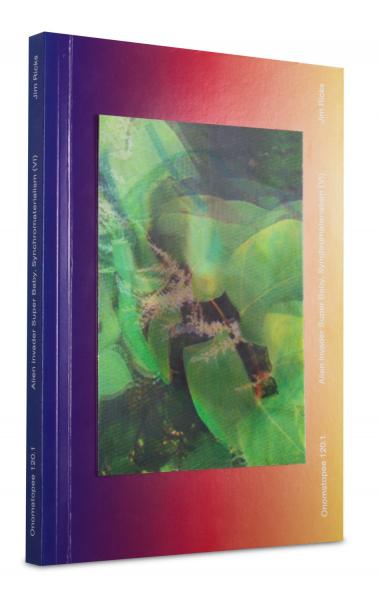 One thing will always lead to another.
Artist Jim Ricks's synchronic sequence of images or objects rests on opportunities to visually connect politics and/or aesthetics and/or history and/or philosophy from one to another. As formal quest, this fundamental empirical and practice-based research within the ranges of our visual culture, conceptually triggers actual cultural migration and identification.
In his 'Synchromaterialist' series, Ricks visually reveals the inevitability of migration and of the inherent viral state of nature, and the nature of existence – what is inherently human – through the perception and reorganization of the everyday.
He takes over the book format – following on from the the exhibition methodology –to drop the unexpected organics of the Synchromaterialistic. This book reaches and branches out to be all forms a book can be. It includes a number of collaborations, and footnotes as inserts and explorations in print – sticker, newspaper, leaflet, cook book, coloring, bookmark, and a book within the book with a text by art and design critic Max Bruinsma, describing the Synchromaterialist approach.
What goes around comes around.
---
Producer, curator and editor: Freek Lomme
Graphic design: Gabriela Baka
Featuring contributions by: Max Bruinsma, Freek Lomme, Abdel-ilah Salhi, Jason Mills
Made possible with the support of the Mondriaan Fund and the municipality of Eindhoven
Type

softcover

Dimensions

215 x 153 mm / 8,5 x 6 inch portrait

Pages

136

ISBN

9789491677755
Editor

Jim Ricks, Freek Lomme, Gabriela Baka

Author

Max Bruinsma, Freek Lomme, Abdel-ilah Salhi, Jason Mills

Graphic

Gabriela Baka
Binding

threat-sewn and glued

Color

full color, over 200 full page images

Details

lenticular A6 on cover, various inserts.
Proofreader

Harvey Herman

Curator

Freek Lomme
more specs