Onomatopee Z0007, Jennifer Moon, 2017
Definition of abundance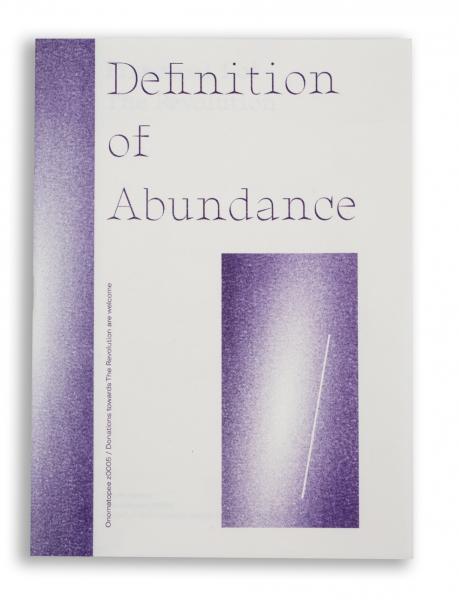 € 5
Sold out
pay as you like, minimum costs are postage costs:
NL -    3 euro
EU -    6 euro
INT - 10 euro
paypal to shop(@)onomatopee.net
The foundation of abundance is unadulterated love of oneself.
Always operate from a place of abundance ("Do not think that one has to be sad in order to be militant, even though the thing one is fighting is abominable"*).
Always choose the most expansive route from moment to moment because the most expansive route can change from moment to moment, which will then allow one to always remain in the moment and it is only in the present moment that one can access the magic.
The two steadfast, basic principles are transferable and pertinent to absolutely anything imaginable today. They are filters, so to speak, through which everything will be applied—or perhaps, more accurately, a way to remove the filters—in order to live a revolutionary life inspiring continuous adventure, discovery, and expansion for all on this earth and beyond! And when I say, "always," I mean pertaining to any manner of actions that can be deemed revolutionary.
Text:  Jennifer Moon 
Editor:  Mathew Timmons (3rd edition)
Graphic design: Mook Attanath 
Production and printer: Mook Attanath and Lucy Rose Nixon — with Onomatopee's risograph
This publication was made possible with support from Onomatopee and the Province of Noord-Brabant
Released as Fourth edition, amended, 2017
Printed for Onomatopee research project O142 We Are The Market
Eindhoven, The Netherlands
Edition of 400
Third edition, amended, 2014
Printed for Made in L.A. 2014 at the Hammer Museum
Los Angeles, CA, USA
Second edition, amended, 2013
Printed by Transmission Gallery
Glasgow, Scotland
First edition, 2012
Printed by Commonwealth & Council
Los Angeles, CA, USA
This is The Revolution-approved Literature
© 2012, 2013, 2014, 2017 Jennifer Moon
* Michel Foucault, Preface to Anti-Oedipus: Capitalism and Schizophrenia, by Gilles Deleuze and Felix Guattari (1972, Minneapolis, MN: University of Minnesota Press, 1983), xiii.
Type

stapled selfcover

Dimensions

A5
Editor

Jennifer Moon

Author

Jennifer Moon

Graphic

Mook Attanath

Artist

Jennifer Moon
Binding

stables

Paper

90 grams eos paper

Edition

200

Color

purple risograph

Printer

Onomatopee's risograph, controlled by Mook
Onomatopee project manager

Freek Lomme

Text editor

Mathew Timmons (3rd edition)

Photography of the book

Blickfanger
more specs