Onomatopee 197, Niek Hilkmann, Thomas Walskaar, 2022
Floppy Disk Fever
The Curious Afterlives of a Flexible Medium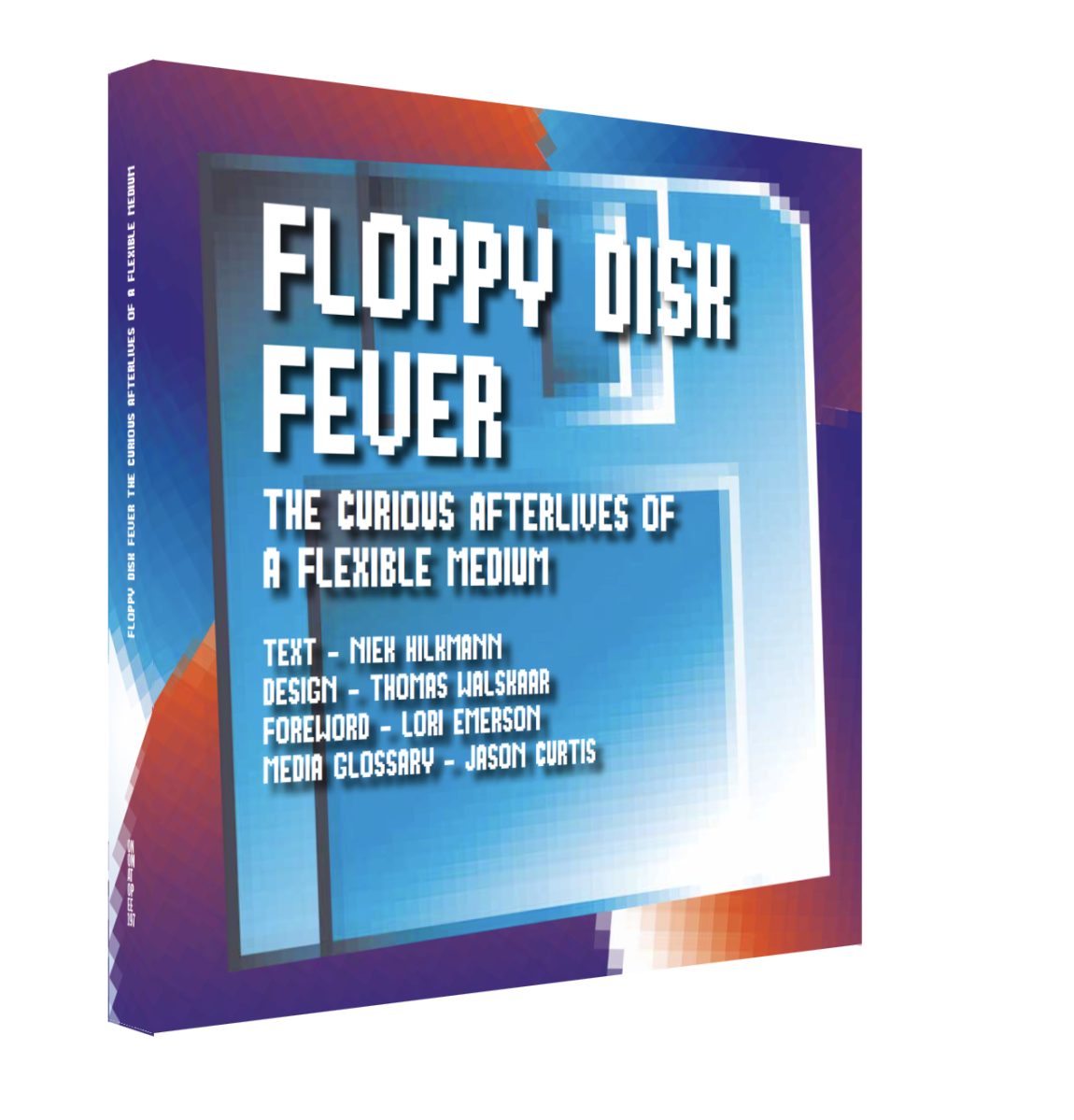 Floppy Disk Fever explores the enduring presence of the floppy diskette in the 21st century through a number of annotated interviews with those involved with the medium today.
The book reflects on notions of obsolescence, media preservation and nostalgia and challenges these by showing the endurance and versatility of this familiar piece of technology that is typically deemed obsolete. Examining the role the floppy disk today can help us assess our present-day situation and may even hint at future developments in our media and technology minded landscape. After all, the technology of the past is also part of our future!
Including contributions by internet-archivist Jason Scott, Tom Persky of 
floppydisk.com
, floppy filmmaker Florian Cramer, Jason Curtis from the Museum of Obsolete Media, Adam Frankiewicz of Pionierska Records, floppy disk hacker Foone Turing, Clint Basinger of Lazy Game Reviews and floppy artist Nick Gentry.
///
Floppy Totaal
Floppy Totaal is a Rotterdam based research project that investigates the reuse and re-purposing of 'outdated' technology as a cultural phenomenon. By examining the contemporary usage of the iconic floppy diskette as a case study, Floppy Totaal assess the way past technology is integrated into our culture today, as well as its future potential.
They aim to share insights in the socio-technological dimensions around residual media by showcasing recent literature, workshops, performances, installations and much more. The initiative started out in 2014 as a festival that showcases a variety of contemporary floppy projects from all over the world, including music, hacking, film, theory and art. After the first five editions, Floppy Totaal received a small subsidy in 2019 to develop Floppy Totaal's research beyond its initial festival format.
Editors
● Niek Hilkmann (born 9 May 1989, Rotterdam) is a Dutch artist with a background in Media Design and Art History that works with film, performance, music, writing and events. Through his work he examines the social narratives, design choices and overall esthetics of a world that is increasingly under the spell of a systematic, dehumanizing production of technology and knowledge. He is the creator of the Panorama Ineptum and a member of Varia, a Rotterdam based  collective initiative around everyday technology and free software.
● Thomas Walskaar (born 24 July 1986, Kristiansand NO) is a graphic designer and media researcher. He holds a MA in Media Design and Communication from The Piet Zwart Institute in Rotterdam and a BA (Hons) in Graphic Design from Ravensbourne University in London. Walskaar has worked with publishing - print and web, visual identities, events coordination, as well as photography and video production. His personal research is directed at the social aspects of digital technologies and its influence on the past and present.
Contributors
● Jason Scott (US) is an American archivist, historian of technology, filmmaker, performer and actor. Scott has been known by the online pseudonyms Sketch, SketchCow, and The Slipped Disk and has been called "figurehead of the digital archiving world". He works for Internet Archive and has given numerous presentations at technology related conferences on the topics of digital history, software, and website preservation.
● Florian Cramer (NL) is a practice-oriented research professor in 21st Century Visual Culture at Willem de Kooning Academy, Rotterdam, Netherlands. Cramer has been conducting workshops on how to revitalize floppy disks for moving images since 2009. Using extreme means of compression to squeeze entire movies on the 1.44 Megabyte provided by a single floppy disk and using it for various inventive means.
● Clint Basinger (US) is the main content creator behind the popular Lazy Game Reviews Youtube channel, providing weekly coverage of retro tech, classic computer gaming, Oddware, thrifting, tech tales and more. Besides regularly creating videos on obscure and redundant forms of disk-based media, Basinger is also a collector of big box floppy disk games.
● Adam Frankiewicz (PL) is a contemporary composer and the founder of independent record label Pionierska Records, which exclusively publishes music on floppy disk since 2014. He is also the curator of the online floppy disk news channel 'Floppy (Not) News' and conducts workshops about floppy disk publishing all throughout Europe.
● Jason Curtis (US) is a writer, librarian and collector that founded the Museum of Obsolete Media; a collection of media formats with over 600 examples of different types, covering audio, video and data. He regularly writes articles about unconventional, obsolete media formats, amongst them the failed versions of the popular floppy disk, providing and sharing insights in their alternative history.
● Nick Gentry (UK) is a British artist from London. Much of his artistic output has been generated with the use of contributed artifacts and materials, chief among them the floppy disk. His art is influenced by the development of consumerism, technology, identity and cyber culture in society, with a distinctive focus on obsolete media, which he uses as the grounds for his paintings.
● Foone Turing(US) is a media collector, hardware hacker and twitter personality. He is the curator of the award-winning exhibit on floppy disks in Computer History Museum in Mountain View, creates GIFS of floppy disks being used in anime movies and created and still maintains the (formerly Sierra) Death Generator, a tool for making fake video game dialogue screenshots.
Type

softcover

Dimensions

​203.2 x 203.2 mm / 8 x 8 inch

Pages

158

ISBN

978-94-93148-86-4
Editor

Niek Hilkmann and Thomas Walskaar

Author

Niek Hilkmann, Thomas Walskaar, Lori Emerson, Tom Persky, Florian Cramer, Clint Basinger, Nick Gentry, Foone Turing, AJ Heller and Joerg Droege, Adam Frankiewicz, Jason Curtis, Bart van den Akker, Jason Scott

Graphic

Thomas Walskaar
Language

English

Release date

20220516

Binding

Section-sewn, otabind

Paper

Munken Print White: cover 300 grams, inside 125 grams

Edition

2000

Color

4/4

Printer

Printon, Tallin (EST)

Image specs

61 full color images
Production assistant

Lídia Pereira

Onomatopee project manager

Freek Lomme and Dymfy van Meel

Print/paper advisor

Dymfy van Meel

Copy editor

Oliver Barstow

Made possible by

Creative Industries Fund NL
more specs