Onomatopee 197, Niek Hilkmann, Thomas Walskaar, 2022
Floppy Disk Fever
The Curious Afterlives of a Flexible Medium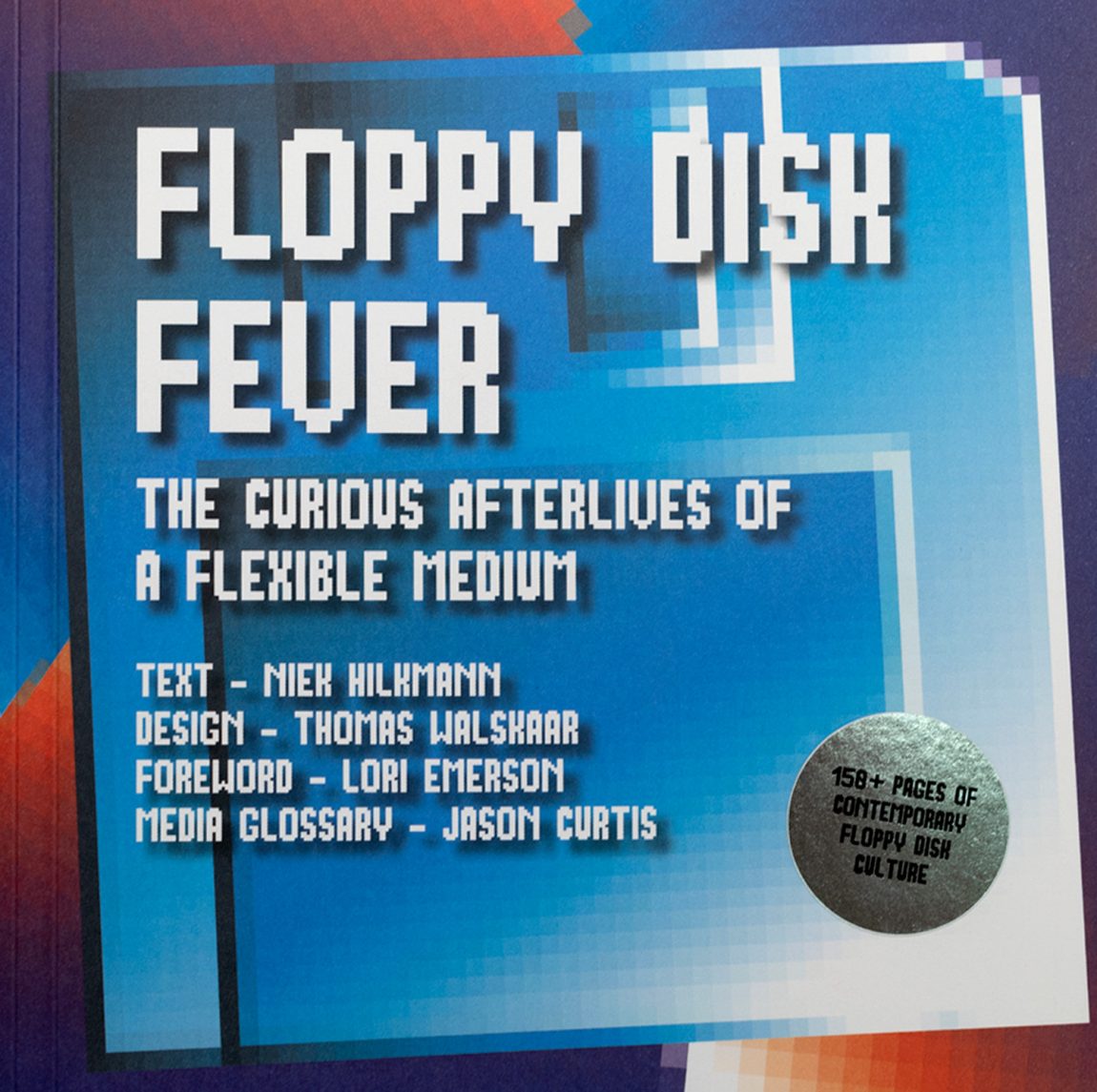 Floppy Disk Fever explores the curious afterlives of the floppy disk in the twenty-first century by interviewing those involved with the medium today.
The book reflects on notions of obsolescence, media preservation and nostalgia, and challenges these by showing the endurance and versatility of this familiar piece of technology. From floppy filmmakers to floppy painters and beyond; what drives people to continue working with the medium that is typically deemed obsolete? What challenges and affordances does it provide? And what does the future hold in store for the familiar black square? By looking at the current presence of past technology we can assess our present-day situation and speculate on the future developments of our media minded landscape. After all, the technology of the past is also part of our future!
Includes a preface by Lori Emerson (Media Archeology Lab) and interviews with Jason Scott (archive.org), Tom Persky (floppydisk.com), Florian Cramer, Jason Curtis (Museum of Obsolete Media), Adam Frankiewicz (Pionierska Records), Foone Turing, Clint Basinger (Lazy Game Reviews), Nick Gentry, Joerg Droege and AJ Heller (Scene World) and Bart van den Akker (HelmondComputerMuseum).
Editors
Niek Hilkmann (NL) is a Rotterdam based artist, musician, and researcher with a background in Art History, Media Design and Visual Culture. He has a particular interest in the abstruse technological condition we are currently living in and the insufficient intellectual methodologies that seek to justify, or explain it. Besides being resposible for various floppy-centered events under the moniker of Floppy Totaal, he is also a member of Varia, the center of everyday technology.
Thomas Walskaar (NO) is a graphic designer and researcher. He has a Masters in Media Design and Communication from The PietZwart Institute in Rotterdam and a BA (Hons) in Graphic Design from Ravensbourne in London. His personal interests revolve around frailty of storage technology and the importance of the individual to store with caution. One of his better known projects is "My Hard-Drive Died Along With My Heart".
Contributors
Lori Emerson (CA/US) is an Associate Professor in the Department of English and the Intermedia Arts, Writing and Performance Program at the University of Colorado, Boulder. She is also the Founding Director of the Media Archaeology Lab. Emerson writes about media poetics and the history of computing, media archaeology, media theory, and digital humanities.
Jason Scott (US) is a free-spirited archivist, filmmaker, performer, and historian of technology. He is known under the online pseudonyms Sketch, SketchCow, and the Slipped Disk, and has been called a 'figurehead of the digital archiving world'. He works for Internet Archive and has given numerous presentations at technology related conferences on the topics of digital history, software, and website preservation.
Tom Persky (US) is the 'last man standing in the floppy disk business'. He is the founder of floppydisk.com, a US-based company, dedicated to the selling and recycling of floppy disks. Other services the company provides include disk transfers, a recycling program, and selling used and/or broken floppy disks to artists worldwide. All this makes floppydisk.com a key player in the contemporary floppy scene. 
Florian Cramer (NL) is a practice-oriented research professor in 21st Century Visual Culture at the Willem de Kooning Academy in Rotterdam, the Netherlands. Since 2009, he has developed a habit for creating and distributing films using floppy disks and has conducted multiple workshops on the subject. By employing extreme measures of compression he is able to squeeze entire movies onto the 1.44 MB provided by the medium. The floppy disk also stood at the center of several of his collaborative film projects as a vehicle for collective constraint. 
Jason Curtis (UK) is a writer, librarian, and collector from Shropshire, England. In 2006 he founded the Museum of Obsolete Media, a formidable collection of media formats consisting of over 700 audio, video, data, and film objects. The collection includes many examples of unconventional and obsolete formats, which are carefully investigated and then documented on the museum's website. Among these, several unusual versions of the floppy disk can be found, providing insight into the alternative history of the medium.
Adam Frankiewicz (PL) is an eclectic theatre director and a contemporary electronic composer. These activities led to the founding of his independent record label Pionierska Records in 2014, which has been publishing music exclusively on floppy disk since 2018. At the time of writing, the Pionierska Records library consists of over 35 releases by almost as many artists. Adam also spreads his enthusiasm for floppy disk culture through his online floppy disk news channel Floppy (Not) News and by conducting floppy based workshops throughout Europe. 
Foone Turing (US) is a media collector, hardware hacker, and Twitter personality. They curated an award-winning exhibit on floppy disks at the Computer History Museum in Mountain View, built a series of impractical keyboards, and crafted the (formerly Sierra) Death Generator, a tool for making fake video game dialogue screenshots.
Clint Basinger (US) is the driving force behind the Lazy Game Reviews (LGR) YouTube channel, providing weekly coverage of retro tech, classic computer gaming, oddware, thrifting tech tales, and more. Besides regularly creating videos on obscure and redundant forms of disk-based media, Basinger is also a collector of big box floppy disk games.
Nick Gentry (UK) is a London based artist who repurposes obsolete media as the raw material for his artwork. Besides computer punch cards and VHS tapes, he makes use of floppy diskettes, donated to him by people from all over the world. The disks function as the canvas for his oil paintings, which are influenced by the development of consumerism, technology, identity, and cyberculture in society.
Joerg Droege (DE) and A J Heller (US) are part of Scene World, an eclectic NTSC & PAL diskmag that started out in 2001 and is still running today. It is kept active by an international group of enthusiasts, hailing from Peru, Germany, China, the USA, and the UK. New issues of the magazine are published regularly through their website, as executable files for Commodore 64 (C64) and Amiga.
Bart Van Den Akker (NL) is the founder of the Helmond based Home Computer Museum, a 1 000+ square meter interactive experience that covers the history of the home computer, from the very first to modern variants in the late 90s and beyond. Besides being part of the digital heritage network of the Netherlands, where old media such as floppy disks can be read and their data converted to a modern format, the Museum has acquired a following within the online retro computer scene and assembled a loyal community that works in the Museum on a daily basis.
Type

softcover

Dimensions

​203.2 x 203.2 mm / 8 x 8 inch

Pages

158

ISBN

978-94-93148-86-4
Editor

Niek Hilkmann and Thomas Walskaar

Author

Niek Hilkmann, Lori Emerson, Jason Curtis

Graphic

Thomas Walskaar
Language

English

Release date

20220516

Binding

Section-sewn, otabind

Paper

Munken Print White: cover 300 grams, inside 125 grams

Edition

2000

Color

4/4

Printer

Printon, Tallin (EST)

Image specs

61 full color images
Production assistant

Lídia Pereira

Onomatopee project manager

Freek Lomme and Dymfy van Meel

Proofreader

Aymeric Mansoux, Silvio Lorusso, Luca Ménesi, Simon Browne

Print/paper advisor

Dymfy van Meel

Copy editor

Oliver Barstow

Made possible by

Creative Industries Fund NL
more specs