Onomatopee 84, David Osbaldeston, 2013
Inflection sandwich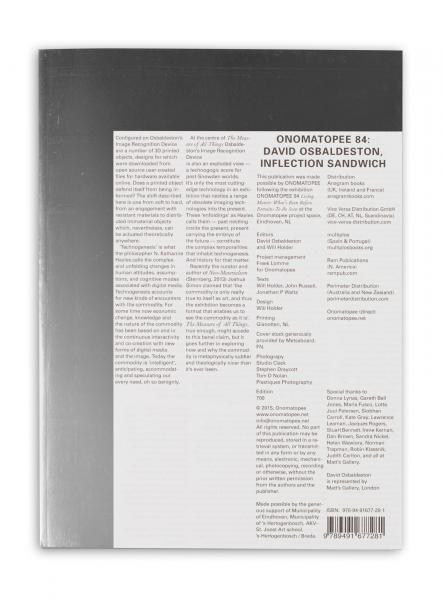 Arranged as a palindrome where text and image relentlessly interweave, Inflection Sandwich is a looping sequence of co-ordinated drawings, sculpture, typography and animation.
In a world where constructions of meaning evolve through an increasingly pluralised, digitised and mediated present, David Osbaldeston takes established modes of artistic practice as a point of departure. With subtle humour, the legacies of conceptualism, word games, repetition and image recognition are toyed with in a bid to highlight ways in which inherited forms of communication become re-authored.
If Orwell said that language should be as clear as a pane of glass then Inflection Sandwich is the dirt on the window, taking pleasure in the interference between modes of perception, systems of communication, and the subsequent confusion that unfolds.
--- ---
Editors: David Osbaldeston and Will Holder
Graphic Design: Will Holder
Authors: Will Holder, Jonathan P. Watts and John Russel.
Type

softcover, self-embossed by David Osbaldeston in chromolux (shiny silver) paper cover.

Dimensions

167 x 230 mm /  9 x 6.5 inch portrait

Pages

88

ISBN

978-94-91677-28-1
Editor

David Osbaldeston, Will Holder

Author

Will Holder, Jonathan P. Watts, John Russel

Graphic

Will Holder
Language

English

Binding

Sewn and glued

Paper

Chromolux Magic Chrome 350 gr (cover) Munken Lynx, volume 1.13, white 130 gr K(32 pages), Lessebo Design, volume 1.3, white 200 gr (32 pages), Condat Silk, white 150 gr (24 pages), Curious Translucents Clear 180 gr (4 pages) Pop'Set 30% recycled light grey 170 gr (2 x 2 pages)

Edition

600

Color

15 full-bleed full color images, 198 black/white images.

Printer

Unicum by Gianotten, Tilburg (NL)

Details

text part section sewn with white binding thread, sheets of 2 pages printed on Curious Translucents clear glued on the first and the last page of the book block, the end papers of 2 x 2 pages will be glued on top of these sheets of Curious Translucents clear, cover drawn on, book cut to trimmed size, cover without creasing lines
more specs