Onomatopee 42, Paul Hendrikse, 2013
Inventory of Possible Narrations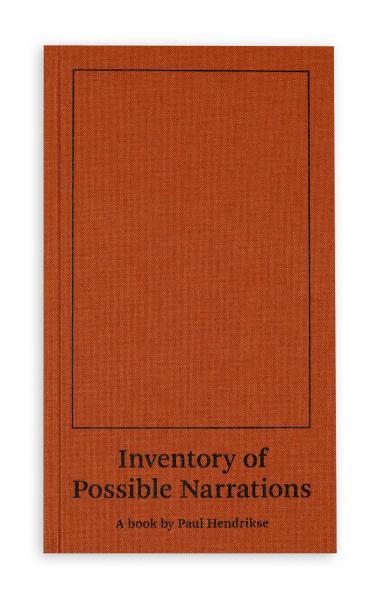 Inventory of Possible Narrations revolves around the life of South African writer and poet Ingrid Jonker, who committed suicide in 1965 at age 32 and who has grown to become an icon in her native country after the fall of the Apartheid regime.  Jonker became a public figure of mythical proportions, a symbol in the identity defining process of South Africa.
Contributing writers: Mark Behr, Ingrid Winterbach, Ilse Carla Groenewald, Michiel Heyns and Basha Faber
Even though Jonker was one of the first significant female authors of the African continent, Jonker only published a small number of books and texts which were originally written in Afrikaans.
In the fifties Jonker became politically involved when she and a group of befriended writers vehemently opposed a law imposing censorship on art, publications and entertainment. Her father, writer, editor and Member of Parliament for the National Party, who's policies included apartheid and the promotion of Afrikaner culture, was appointed chairman of the parliamentary committee responsible for these laws. After some media-covered incidents between Ingrid and her father, she had difficulties publishing her work in the prevailing climate  of that time.  In 1963, however, she managed to publish Smoke and Ochre, her second volume of poetry, and won South Africa's most prestigious literature prize. After her suicide, she fell into oblivion.
Since the end of Apartheid Jonker's identity has largely been adopted and given meaning by interested parties. Biographers, actresses, writers, filmmakers, admirers and politicians write and rewrite Jonker's story, turning it into something ghostlike that keeps on haunting the present.
This anthology of short stories starts at that point. It focuses on Jonkers politicized and ubiquitous character, and uses it as a vehicle for investigating history, biography and mythology. Four South African authors: Ingrid Winterbach, Michiel Heyns, Mark Behr, Ilse Carla Groenewald and Basha Faber from the Netherlands, were commissioned to write a short fiction that starts from the projected figure of the poet. Next to her biography the writers were each given a series of images of interiors of places were Jonker used to live, write or where she and her colleagues used to meet during the fifties and sixties. These series of photographs were used by the individual writers to embed the narration.
Inventory of Possible Narrations was edited by philosopher Benda Hofmeyr and visual artist Paul Hendrikse and is the final part of an ensemble of works with the title Hauntology of Smoke and Ochre that was developed by Paul Hendrikse between 2009 and 2012. It consists of several intense collaborations with actresses, writers, photographers and philosophers and resulted in a performance, printed matter, a video installation, texts, slide works and, finally, this book.
Editors: Paul Hendrikse and Benda Hofmeyr
Authors: Mark Behr, Basha Faber, Michiel Heyns, Ilse Carla Groenewald, Ingrid Winterbach
Proofreading: David Levey, Sophie Burm
Translation: Susan Massotty
Graphic design: Sarah Infanger
Photography: Paul Hendrikse, Melanie Hofmann, David Southwood
Printing: DZA Druckerei zu Altenburg GmbH
This publication was generously supported by: The Netherlands Foundation for Visual Arts, Design and Architecture, Stichting Stokroos, Bijlevelt Stichting, the Netherlands Embassy in Pretoria, South Africa and the Province of Antwerp, Belgium
Type

Hardcover

Dimensions

110 x 195 mm / 4.3 x 7.6 inch

Pages

180

ISBN

978-90-78454-48-9
Editor

Paul Hendrikse and Benda Hofmeyr

Author

various

Graphic

Sarah Infanger
Color

16 pages full color glossy photo's, rest in black/white text

Details

dust-jacket behind frontpage and backpage
Proofreader

David Levey, Sophie Burm
more specs