Onomatopee 212, Gudrun E. Havsteen-Mikkelsen, 2022
Snowblindness
Let's talk about storytelling, colonialism, Netflix and my great grandfather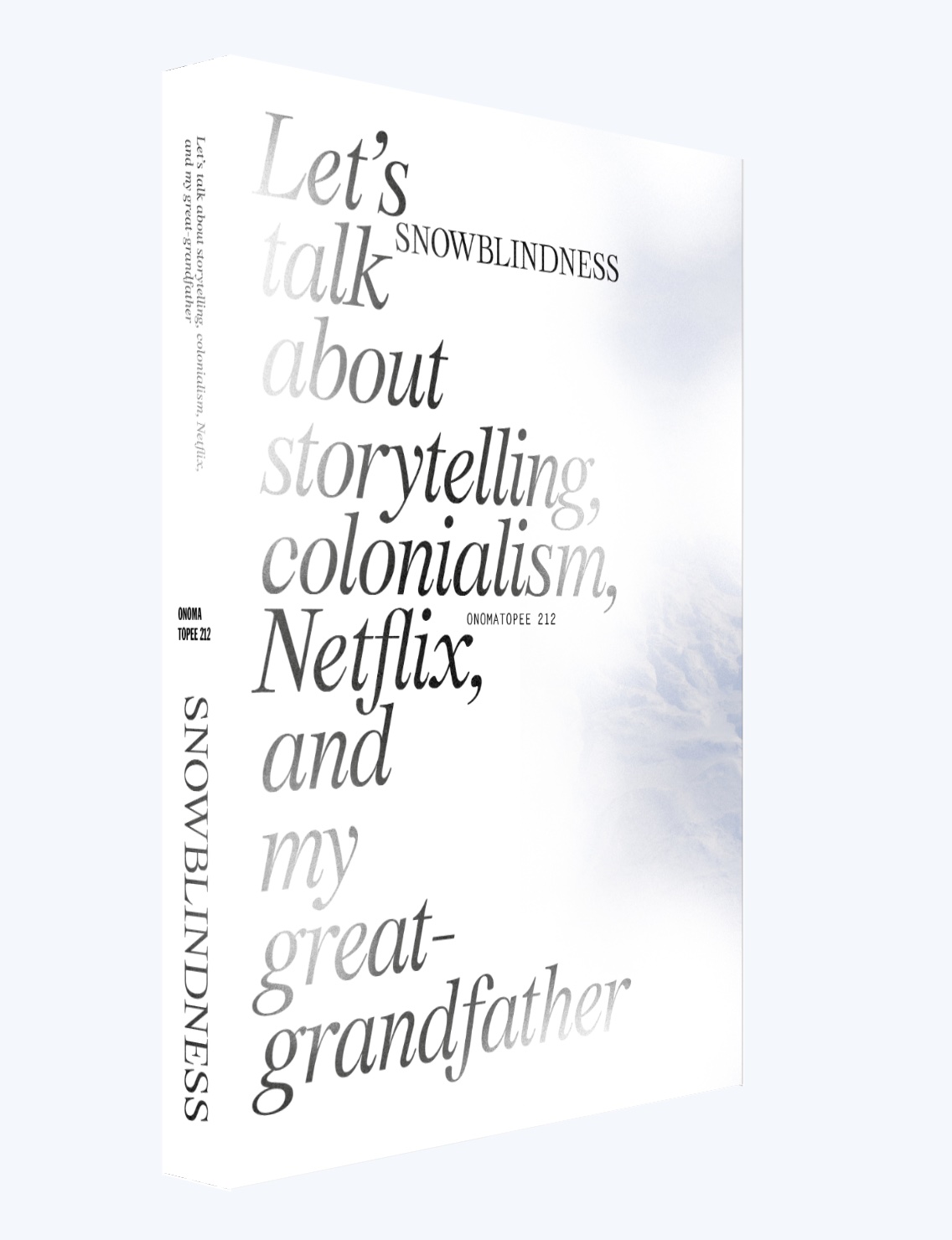 € 27
In (re)print
Challenging the colonial narratives surrounding the Netflix film Against the Ice, this personal, editorial project by a present-day descendant opens-up to cultural and historical inclusion by broadening the storytelling.
The new Netflix film Against the Ice is based on the adventures of a Danish polar explorer, captain, and coloniser in Kalaallit Nunaat (Greenland), who marked his agenda and achievements in books and maps that contributed to the production of 'collective memory' and the dominant history of Nordic colonialism.
This book is designed and edited by Gudrun Havsteen-Mikkelsen, the great-granddaughter of this same explorer, in collaboration with designer Anna Bierler. Combining visual and textual contributions, archival material, dialogues, and controversies, Snowblindness – Let's talk about storytelling, colonialism, Netflix and my great grandfather presents new grounds for engagement with the polar explorer's stories, whether these are visually, orally, or textually transferred. The result is a generous and vulnerable reader, which weaves information from a multiplicity of sources, and places particular emphasis on collaboration, trust, and questioning.

Our lives resonate through storytelling. The writing and rewriting of history, family stories handed down through generations, the inclusion of plural perspectives and subsequent broadening of conversations; our identities are made by narratives colliding and shifting. In Snowblindness, colonial narratives are challenged through such storytelling, encouraging a questioning of history, ethics, and aesthetics.
Type

softcover

Dimensions

170 x 240 mm / 6.69 x 9.44 inches (portrait)

Pages

296 (estimate)

ISBN

978-94-93148-79-6
Editor

Gudrun E. Havsteen-Mikkelsen

Graphic

Anna Bierler and Gudrun Havsteen-Mikkelsen
Language

English

Release date

20220328

Binding

Otabind

Paper

100 gr. Munken Polar Rough (inside) and Consellation Snow E07 Martelle 240 gr. (cover)

Edition

1500

Color

4/4 + 1 PMS metallic silver

Printer

Balto, Vilnius (LT)

Font

Kéroïne Doux Extrême, Kéroïne Intense Légère, Maratre

Details

SPECIAL: MILLING OF THE EDGES OF THE BOOK!
Onomatopee project manager

Freek Lomme

Text editor

Olaf Havsteen-Mikkelsen

Proofreader

Harriet Foyster

Made possible by

Stichting Jaap Hartens Fund, Stichting Stokroos, Cultuur Eindhoven and Trolle Legatet
more specs