Onomatopee 206, Joannette van der Veer, 2022
Unununimimimdededesign
the hesitant state of design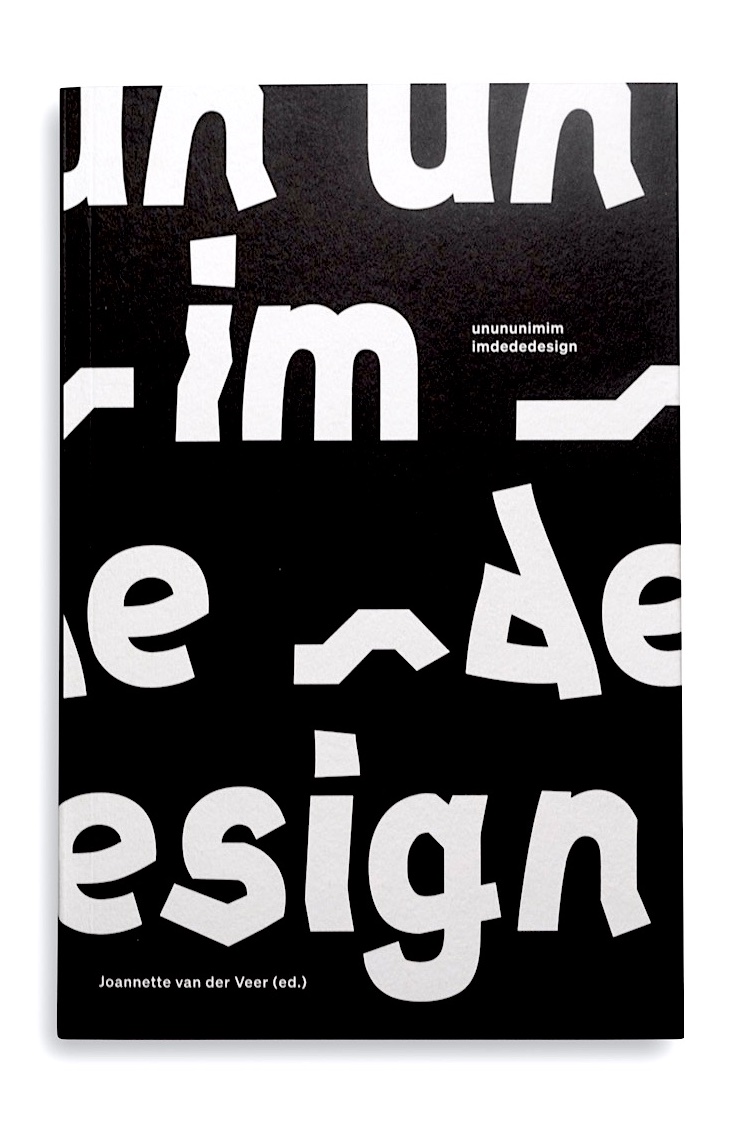 Over the past few years, design has been learned and unlearned, done and undone, patriarchised and depatriarchised, colonized and decolonized, centralized and decentralized, and so forth.
Meanwhile, (departments of) schools appear to be wandering, un-stable, not-yet, unsettling, or impermanent, making way for anything other than sturdiness. The question must then be asked, if all within design is being undone, unmade, and unlearned, what is it exactly that is being done, being made, and being learned?
'Unununimimimdededesign – the hesitant state of design' wishes to delve into this question by offering divergent views from within and upon design discourse and education. It does not aim to 'fix' this hesitant state or offer solutionist approaches, but instead reflectively pause and build upon the knowledge, thoughts, hesitations and discomforts that accompany it.
special thanks to
The participants and alumni of The Critical Inquiry
Lab: Viktoria Kaslik, Cecilia Casabona, Lara Chapman,
Maxime Benvenuto, Josh Plough, Fernand
Bretillot, Ram.n Jimenez Cardenas, Janfer Chung,
Tiiu Meiner and Sofia Irene Marmolejo Bijnsdorp for
their contribution to Saskia & Nadine's contribution;
Rana Ghavami and her students for sharing thoughts,
ideas and feedback; Anja Kaiser and Rebecca Stephany
for an insightful conversation; and all the other
engaged individuals involved in the process of developing
this publication.
Type

Softcover

Dimensions

130x200mm

Pages

136 pages

ISBN

978-94-93148-89-5
Editor

Joannette van der Veer

Author

Saskia van Stein Nadine Botha Alice Twemlow Imad Gebrayel Maya Ober (depatriarchise design) Belle Phromchanya (Non Native Native) Darunee Terdtoontaveedej (Non Native Native) Lisa Baumgarten (Teaching Design) Judith Leijdekkers (Teaching Design) Joannette van der Veer

Graphic

Cover: Lot Mars Inside: Studio Bramesfeld
Language

English

Release date

20220801

Binding

glued

Paper

Cover: 265 g/m2 Wibalin Natural Strongboard Inside: 120 g/m2 Circle Offset Premium White

Printer

Drukkerij Tielen

Font

stotts by Lot Mars Söhne by Klim type Foundry
Text editor

Amy Gowen

Photography of the book

Blickfänger

Made possible by

Creative Industries Fund NL Province of Noord-Brabant
more specs