Onomatopee 91, Paul Devens, 2013
Waving Platforms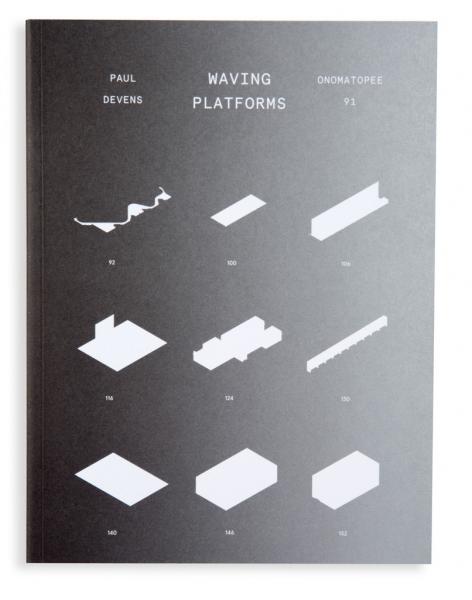 Designing and staging cultural resonance and amplifiers to the surface of reality: this book is inspired by Paul Devens' "waving platforms" that establish poetic opportunities for the unheard: resonating and amplifying its cultural poetics: a vanguard pronunciation on the social and architectural embedding of sound art.
This first in depth publication on the oeuvre of international recognized Dutch sound-artist/architect/designer Devens both stimulates our perceived reality of the audible we're surrounded by as well as our notion of the underlying social grid. Resultant poetics deeply concern our spatial environments and our opportunities to relate to this holistic sum's ephemeral presence.
The book is truly unique. First of all for the color tones are solely made up by silver and black, capturing the poetic, techy vibrancy of the work. Second and most prominent is the integration of two separately, horizontally placed booklets within the binding cover. The above booklet captures the works while the one below the theory. This allows for flanked reading and browsing through space and tonality.
Concept and development: Paul Devens
Curator: Freek Lomme
Editors: Paul Devens and Freek Lomme
Text contributions by: Emre Erkal, Ive Stevenheydens, Armeno Alberts and Rahma Khazam
Graphic Design: Piere Geurts / NN Studio Liege

Translations and corrections: Mels Dees
Made possible thanks to the generous support of the Municipality of Eindhoven and the Mondriaan Fund.
Type

Softcover

Dimensions

150 x 200 mm / 5,9 x 7,9 inches portrait

Pages

164

ISBN

978-94-91677-13-7
Editor

Paul Devens, Freek Lomme

Author

Emre Erkal, Ive Stevenheydens, Armeno Alberts, Rahma Khazam

Graphic

Piere Geurts / NN Studio Liege
Binding

Three book-blocks, all threat-sewn and glued in one cover

Paper

Print Speed / Soporset Premium offset 300 gr (cover) and 135 gr. (inside)

Edition

1.000

Color

Cover: single-sided in black and PMS silver 877 + allover varnish. inside: double-sided in black + PMS silver 877

Printer

Lecturis

Details

inside p3-164 sewns and glued, then cut as to gain two parts of 100 x 150 mm. Pages 1-4 and 165-168 remain uncut.
Proofreader

Mels Dees 
more specs