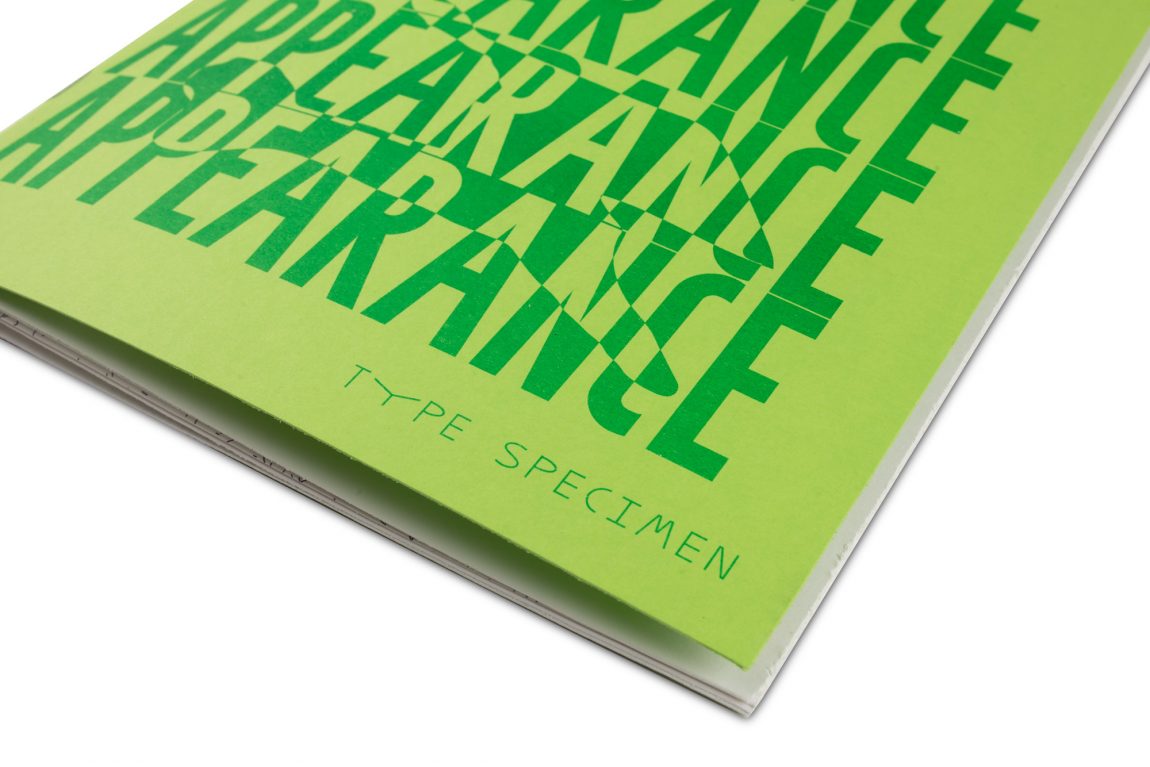 Agenda
March Saturday 30, 2019, 13:00 - 17:00 / Book launch, Performance, Super book, Talk / lecture
Super Book Saturday with Decoding Dictatorial Statues, China Girls, flash fiction workshops and Criticism in the City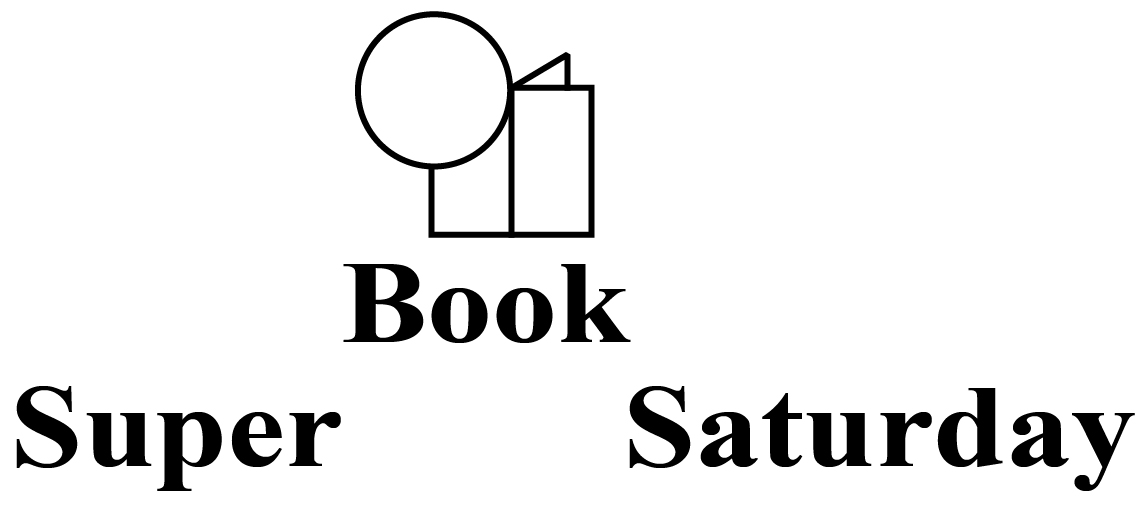 On Saturday 30th of March from 1-5pm there will be a selection of launches and workshops related to printed matter at Onomatopee.
This month's Super Book Saturday will feature the launch of Ted Hyunhak Yoon's book Decoding Dictatorial Statues. Ted will introduce the collection of images and texts that revolve around the different ways we can look at statues in public space. The launch will coincide with a performance.
Then during a 20 minute talk the artist Pedro Bakker will discuss his publication Innocent under the title: How innocent to draw 'China girls'? Bakker will be joined by the artist Mickey Yang who will interview him about the concept of 'China girl' used in his art while questioning if the title of David Bowie's song is an objectionable post-colonial concept.
Towards the end of the day, from 3-5pm, students from the Design Curating & Writing Masters at the Design Academy Eindhoven will be running flash fiction workshops. Inspired by ordinary muses, like Bic pens and callipers, you'll write 55 word stories that will be compiled into a small Riso-printed publication. If inspiration is lacking, the students will guide you on how to choose a muse that suits you.
Eindhoven Footnotes will also de distributing their zine Criticism in the City for free on the day. The permeant research space will also be open for those interested in exploring the relationship between technology and citizenship through objects and acts.
--- about the participants ---
Ted Hyunhak Yoon (b.1987) is a graphic designer-researcher based in Seoul(KR)∙Maastricht(NL). He graduated from MA Visual Communication, Royal College of Art in London, UK. From April 2017 onwards, he is a participant of a residency programme in Jan van Eyck Academie, Maastricht, Netherlands.
Design Curating & Writing is masters course rooted in the practice and performance of research through, about, and alongside design. It pursues a high level of quality, criticality, rigour, and depth in the act of research.
Location
Onomatopee
willemstraat 27
5611 HB Eindhoven
Location
Onomatopee
willemstraat 27
5611 HB Eindhoven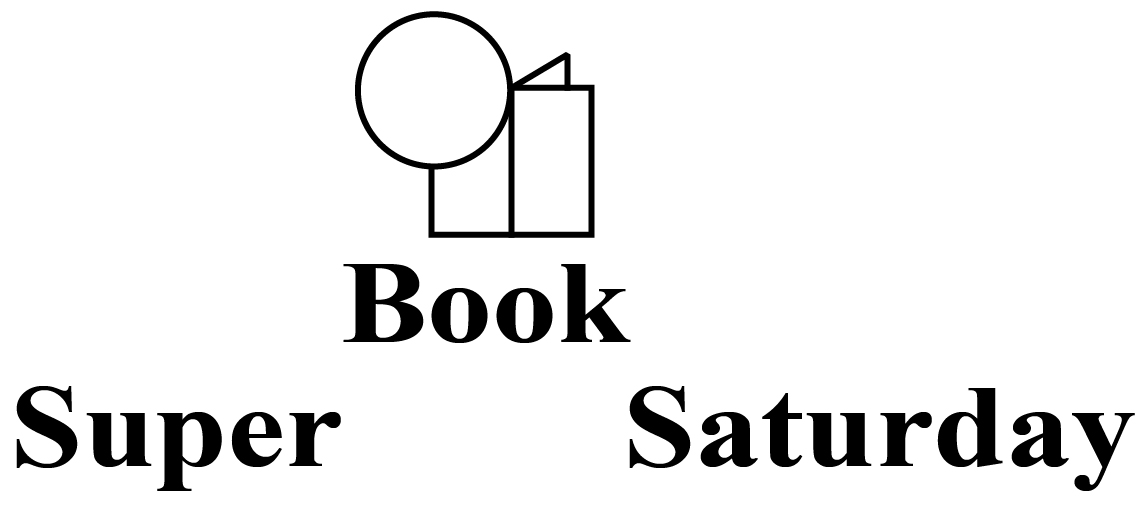 Publication
Onomatopee Z0012, Maarten van Maanen, 2019
APPEARANCE / being, type specimen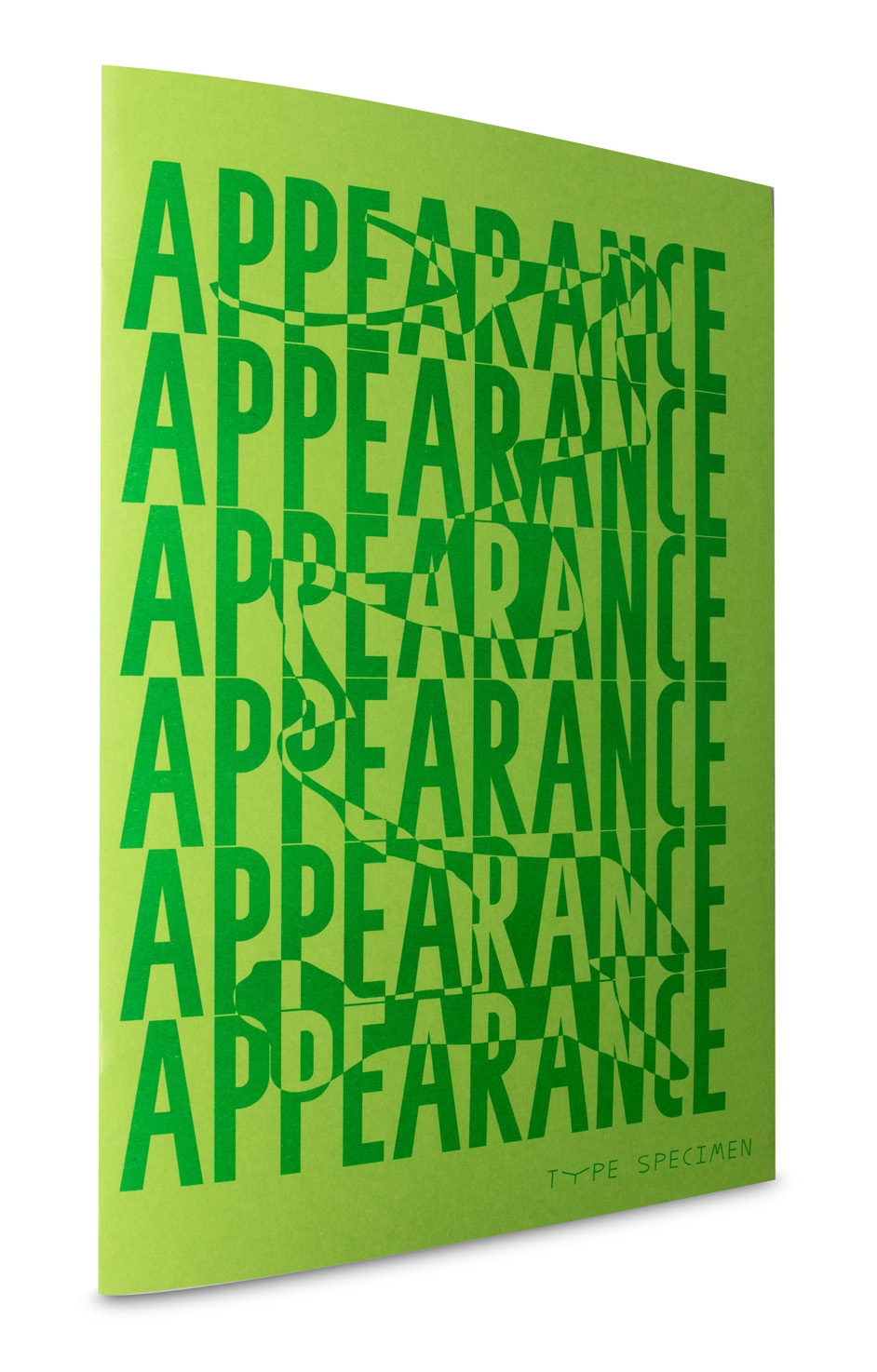 a typeface is a character.
with the genes of its parents, on a course along given conditions    
Deriving from a letter's point of view, APPEARANCE / being is a speculative series of typographic experiments by graphic designer Maarten van Maanen.   
Taking an a-semantic foundation, and accordingly merging text, illustration, sign-language and more, these fonts give an alternative sound to the determined character of design. This type specimen uses a variety of thoughts, quotes and ideas from otherwise-minded writers and thinkers as its body of text.
Type

stapled

Pages

16
Editor

Maarten van Maanen

Author

Maarten van Maanen

Graphic

Maarten van Maanen
Language

English

Release date

20190131

Paper

Gmund Colors Matt, GC 32 Green, 200 grs, Munken Polar Rough, 120 grs

Edition

300

Color

cover printed in green, inside in purple

Printer

Callum Dean on Onomatopee's risograph

Font

mauerstadt, der Mond, nv-a, pala, profil, snerl, tanz-tanz
Photography of the book

Blickfanger

Made possible by

Province of Noord-Brabant and Stichting Stokroos
more specs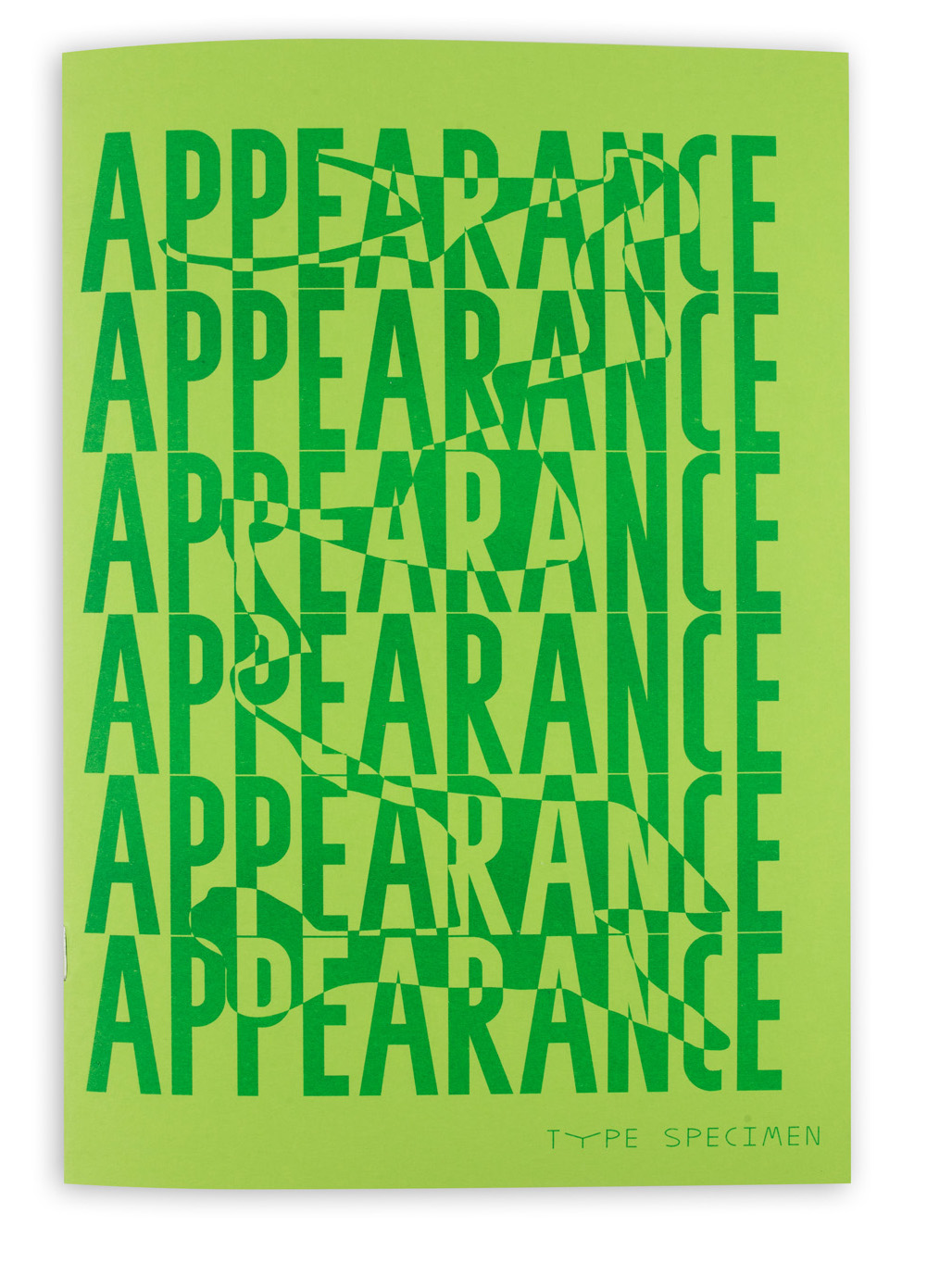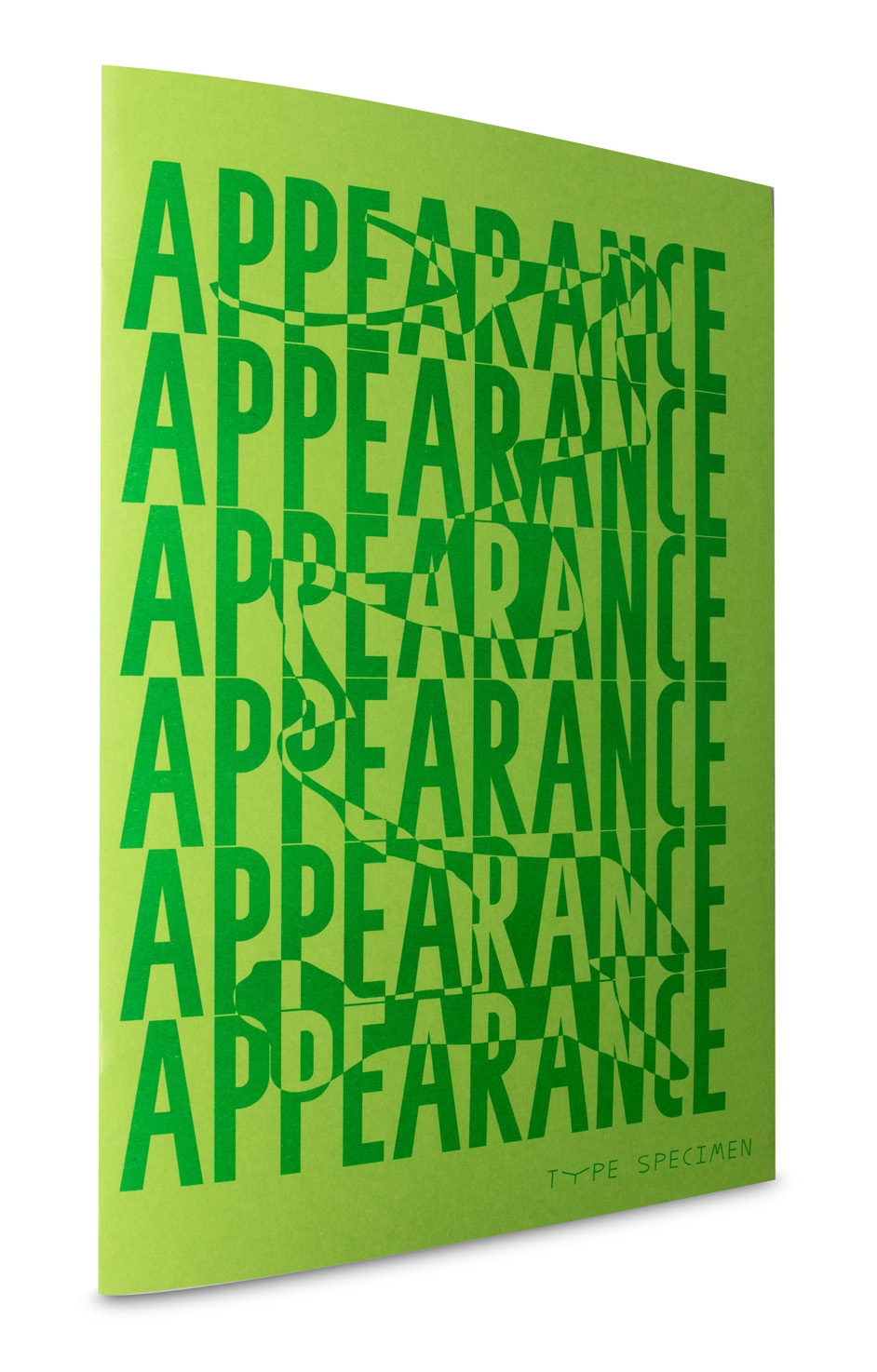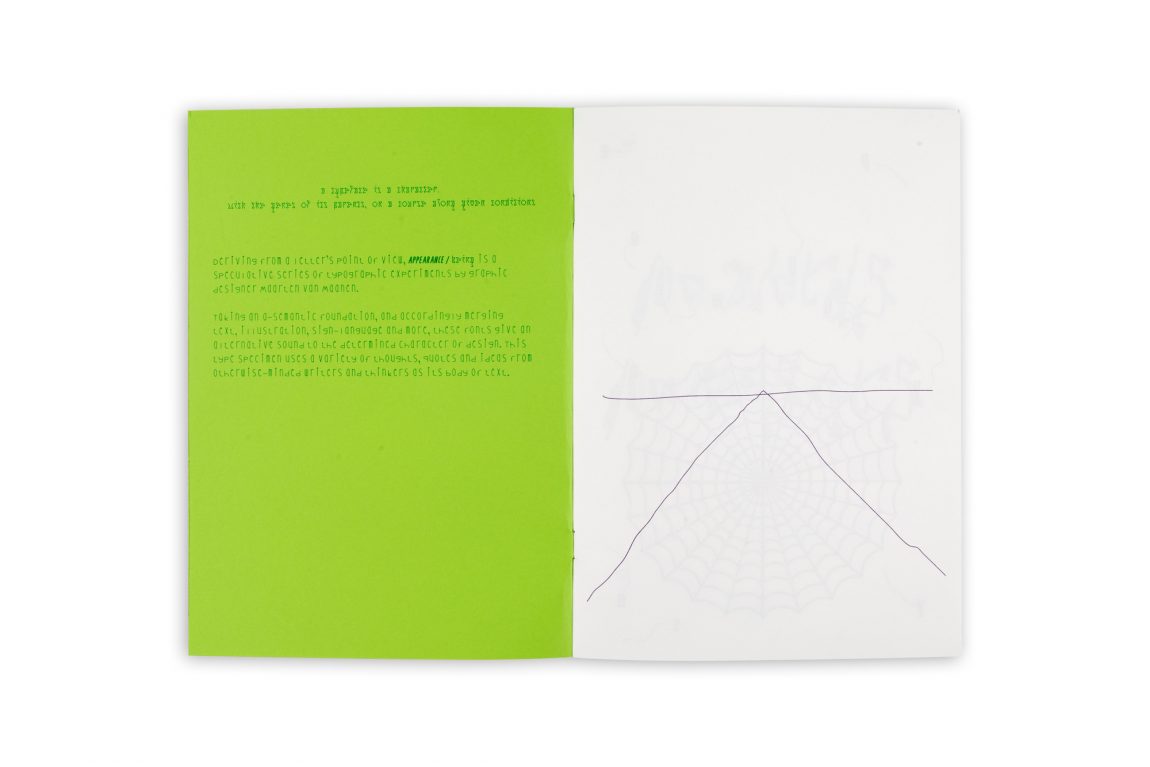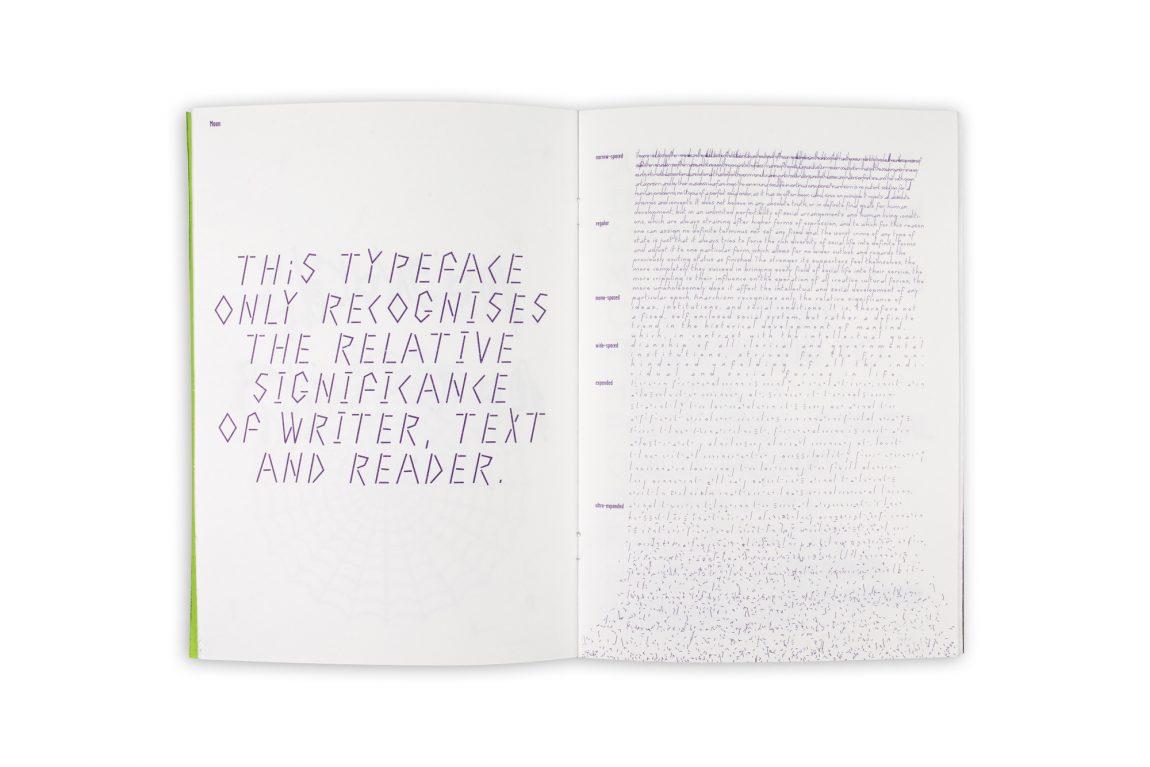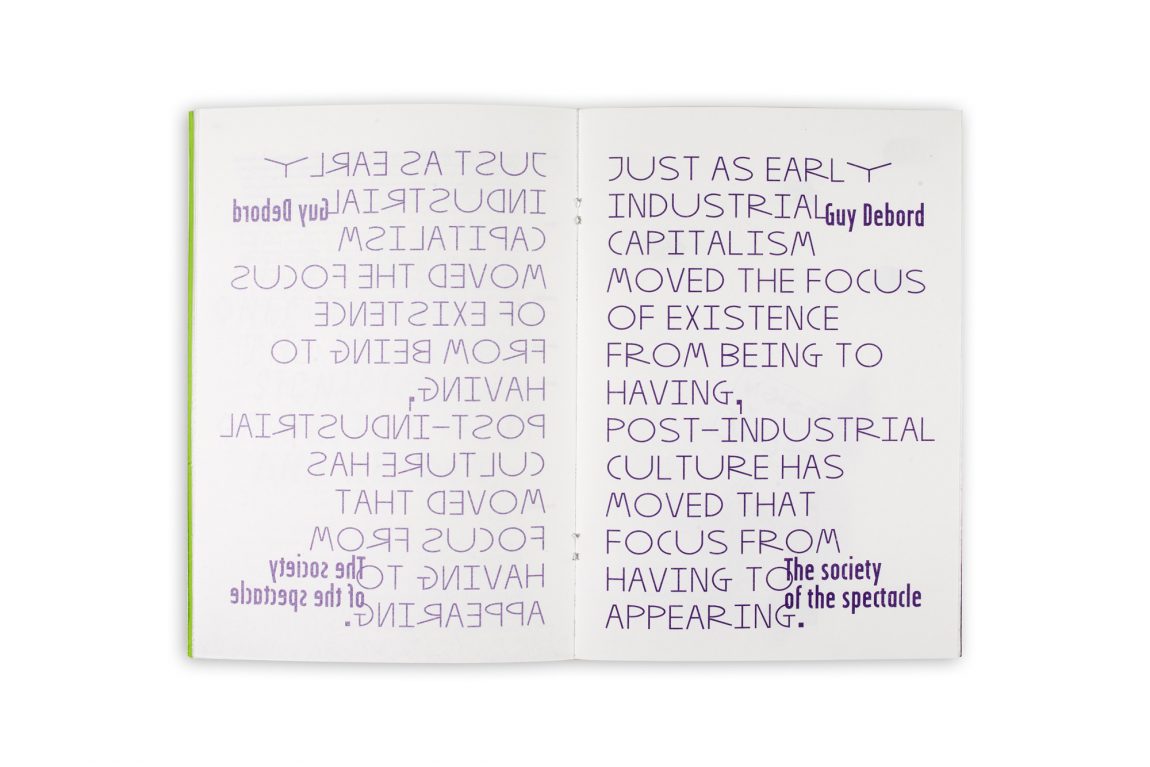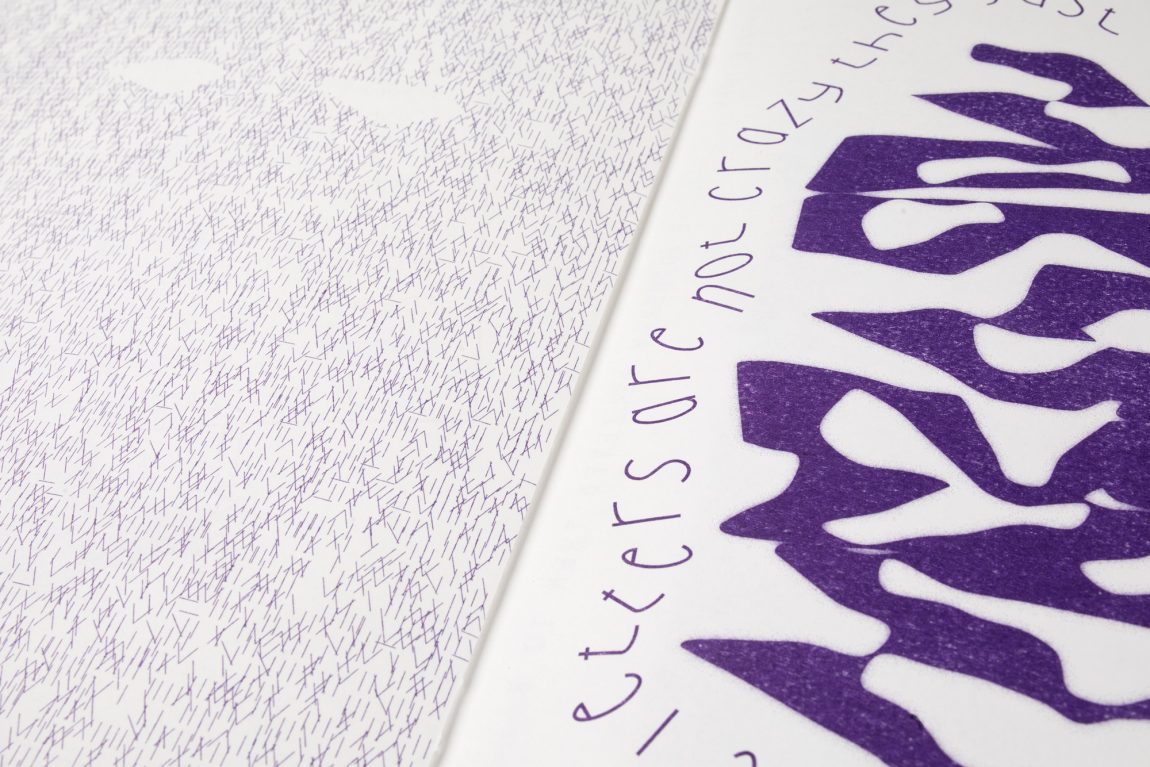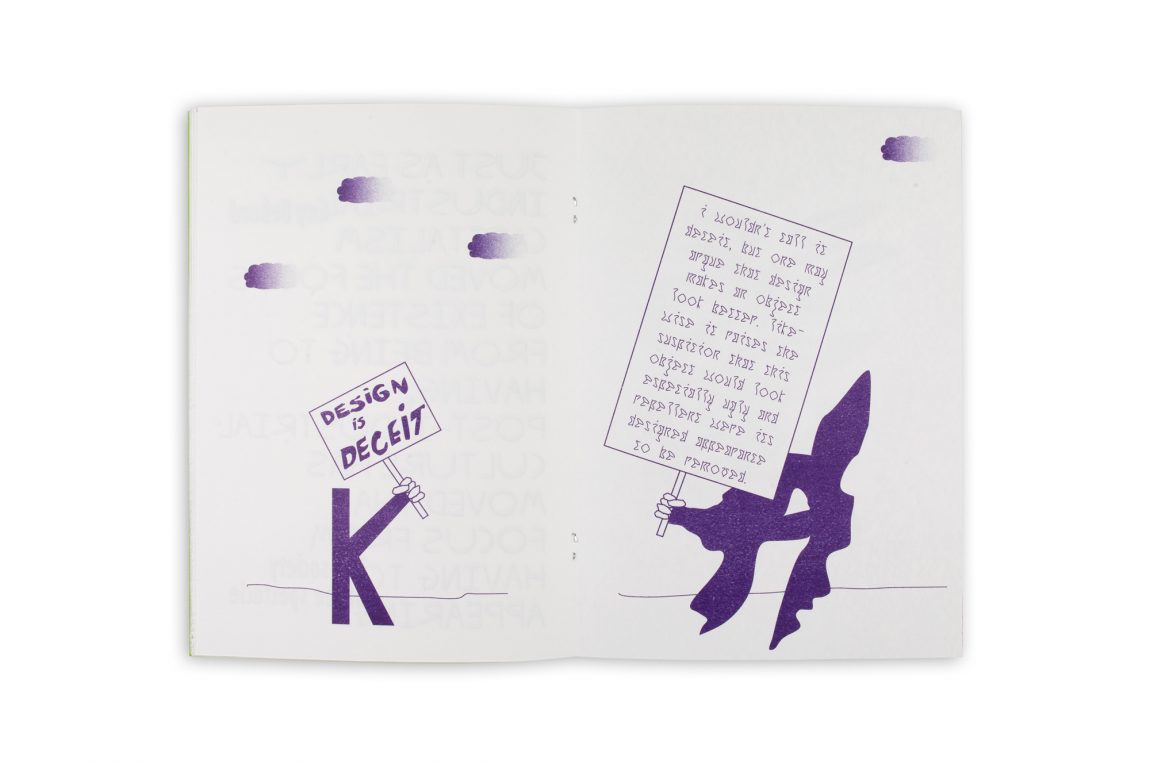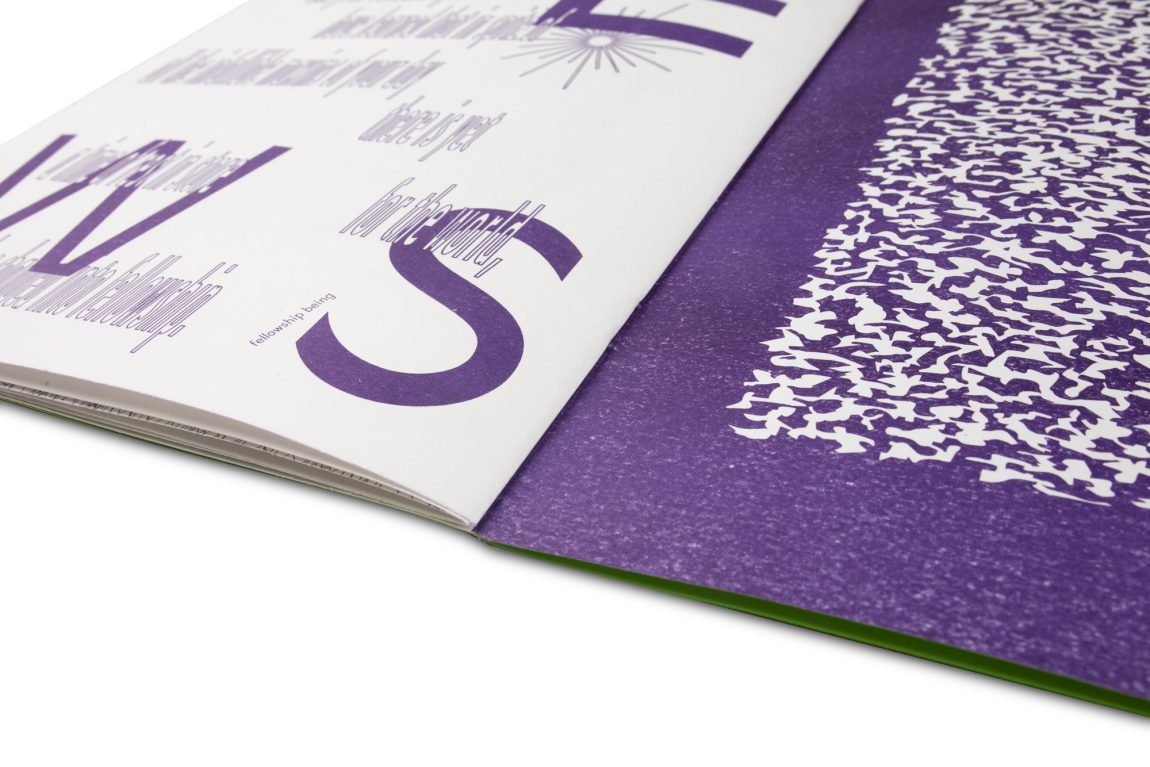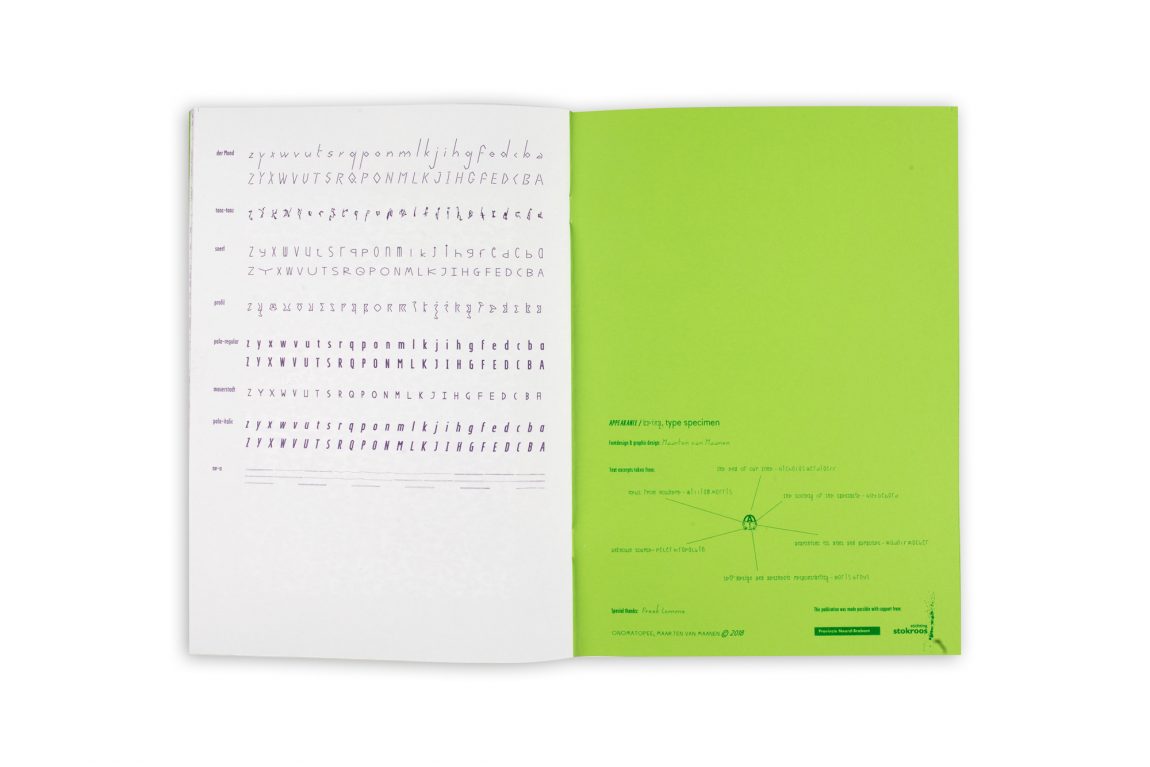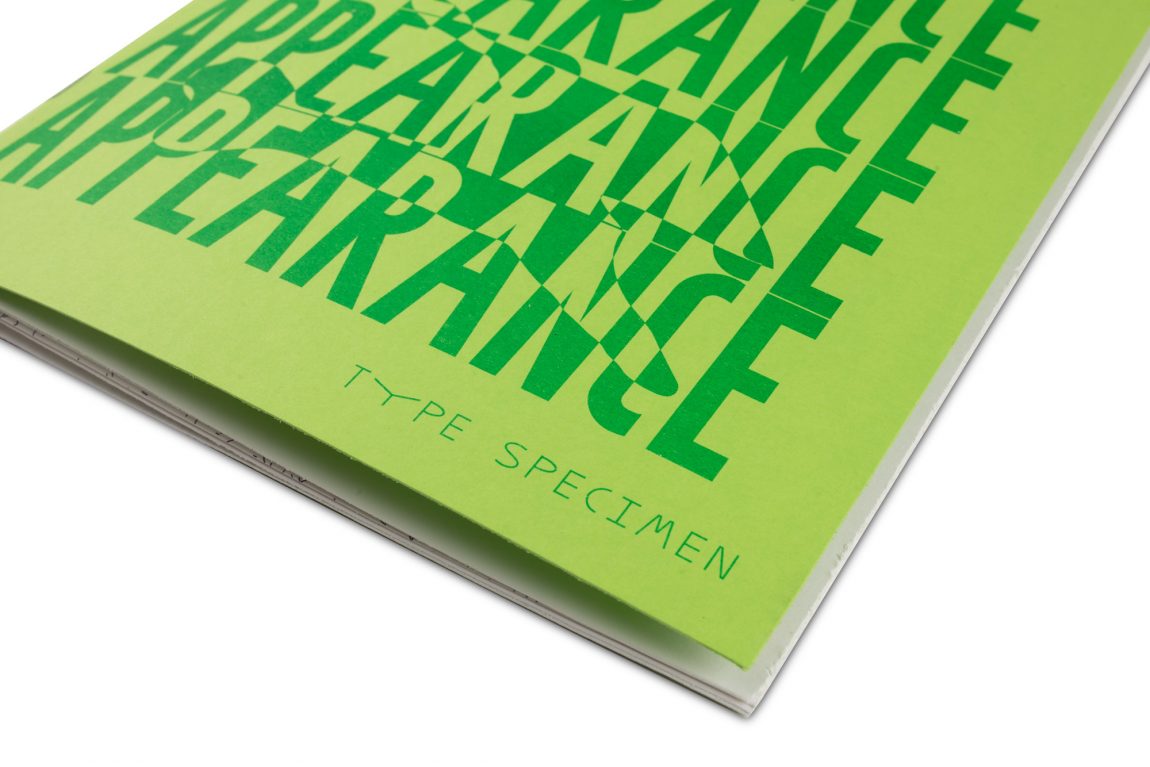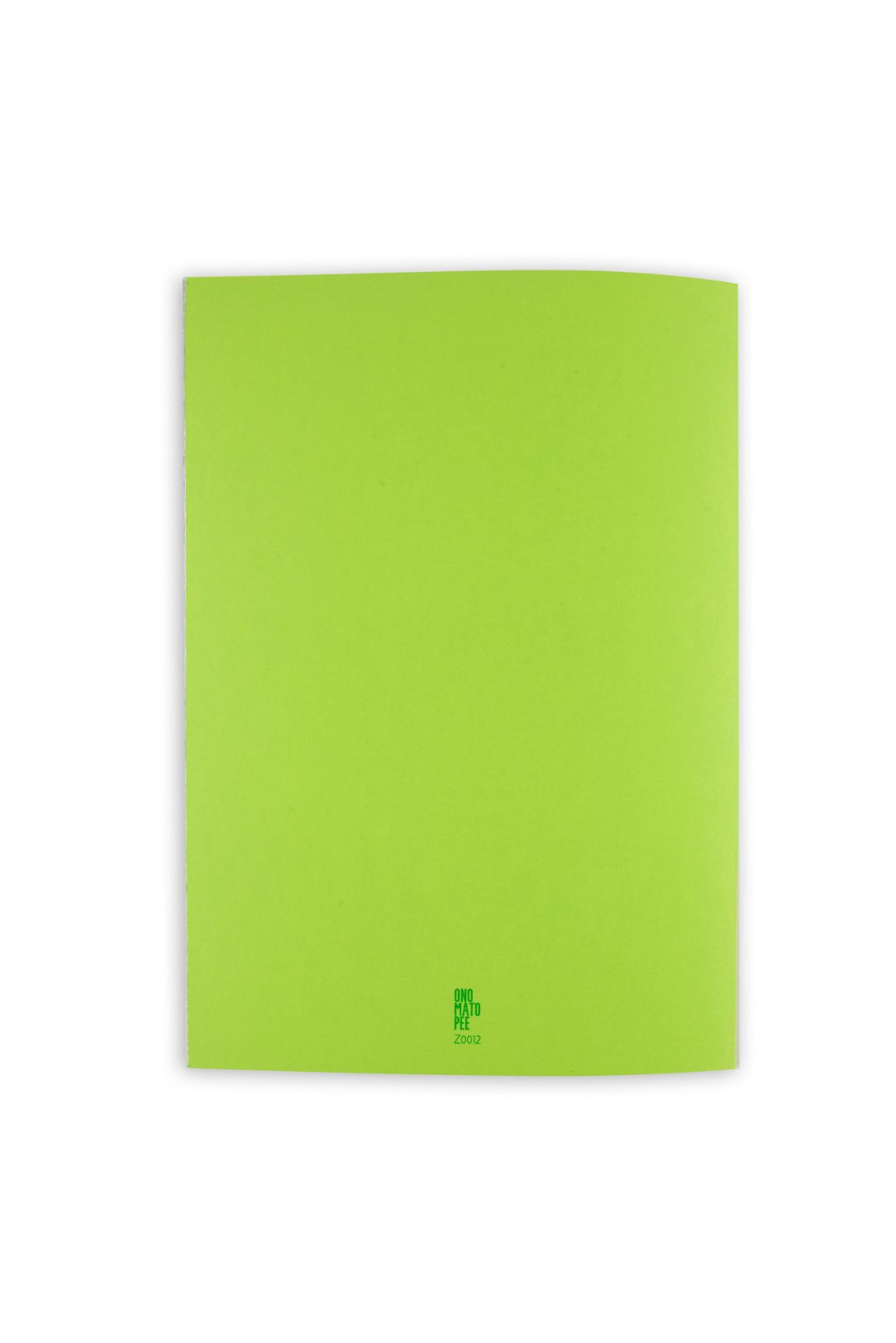 PEOPLE INVOLVED IN THIS PROJECT AND ALL THE ROLES THESE PEOPLE EVER HAD IN ONOMATOPEE PROJECTS