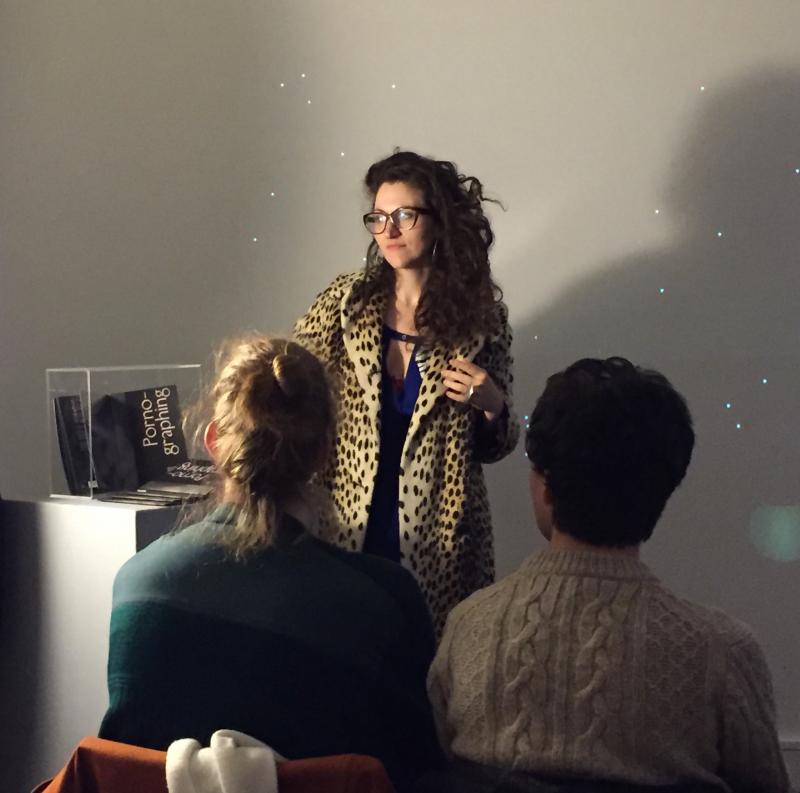 Porno-graphing
what do 'dirty' subjectivities do to art?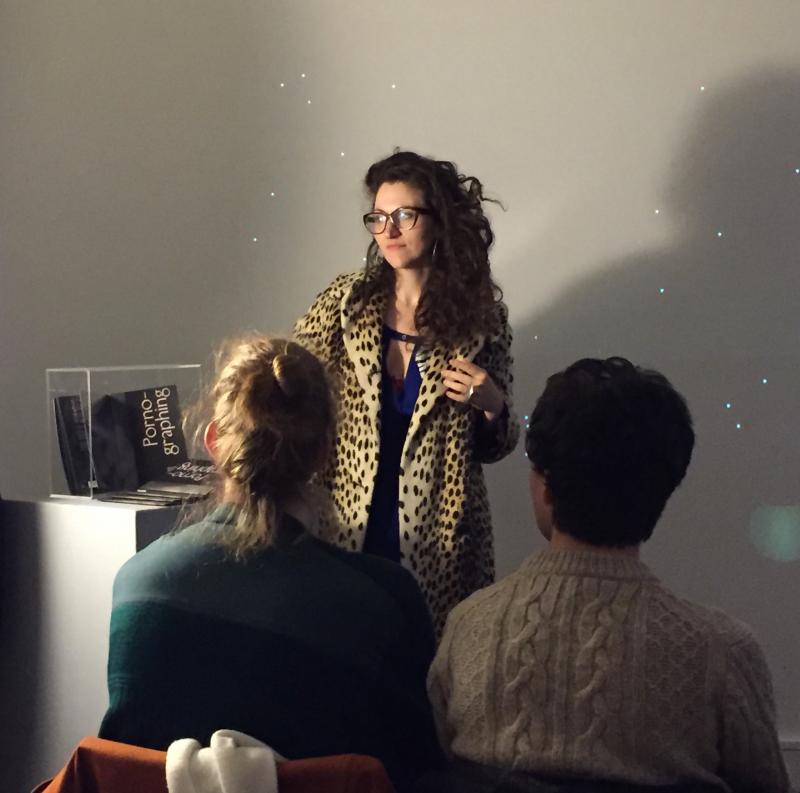 Zine-launch with AnnaMaria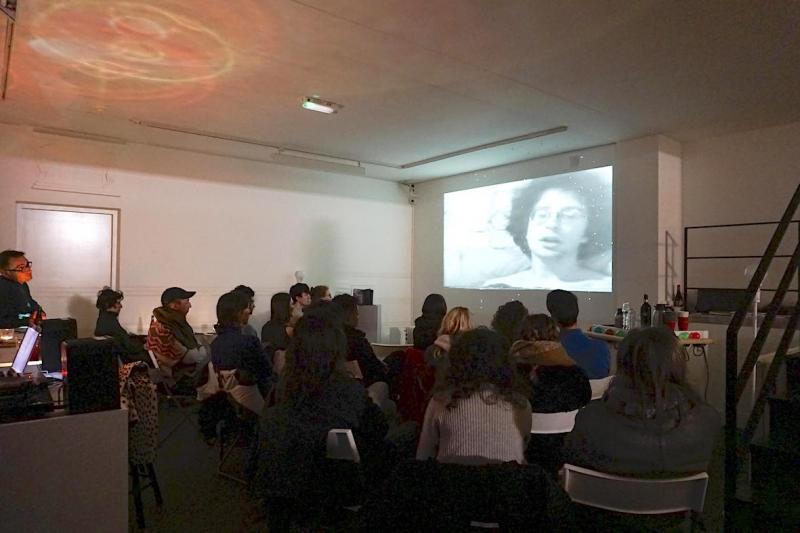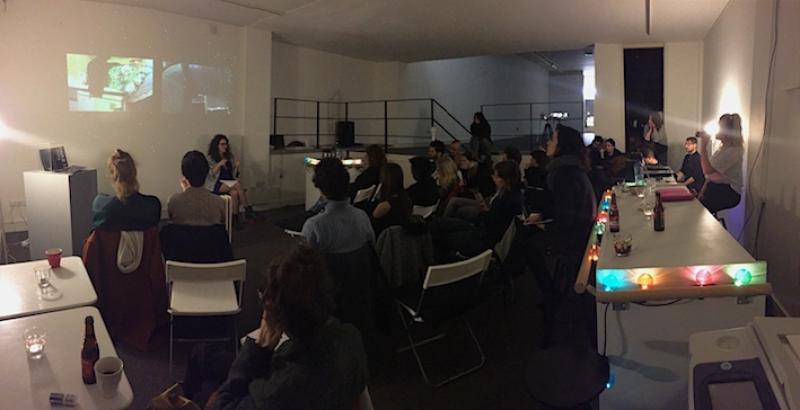 Agenda
March Saturday 2, 2019, 20:00 - 22:00 / Talk
Peach, Octopus, Eggplant — Part I: AnnaMaria Pinaka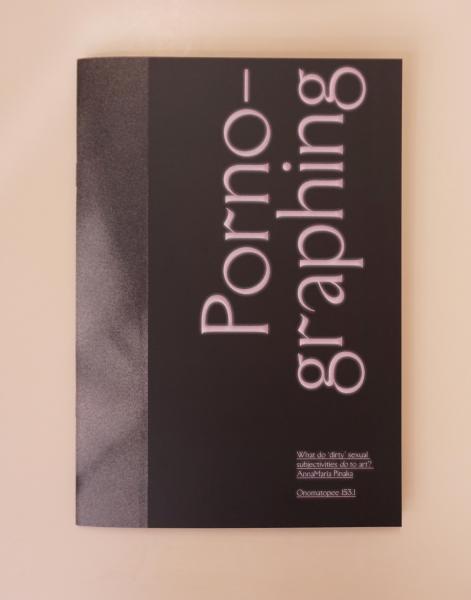 Page Not Found invites you during three consecutive events to discover publishing artists who share an interest in sexualized representations and renewing the discourse about them, and more generally in feminist agency in their production. During her event, AnnaMaria Pinaka will talk about her experiments with a methodology she calls porno-graphing. This involves the reappropriation of sexual and pornographic representations to propose alternative mappings of sexual intimacy. The discussion aims to address the binary position of art/porn, public/private and healthy/pathological by pointing to the excess of space that spans these positionings.
AnnaMaria Pinaka is a visual artist and researcher. In her work, she mainly focuses on the intimacies of domestic life while re-appropriating sexual or pornographic imagery through lens-based media, a method she conceptualizes in her written work as porno-graphing. She recently finished her PhD at the department of Theatre and Performance at Roehampton University, a project that took her almost eight years. Part of her practice-based research is now published as a zine by Onomatopee. The publication, that is titled Porno-graphing, carries the subtitle 'What do dirty sexual subjectivities do to art?' and it discusses different positions in the art/porn debate as well as the ways in which porno-graphing strategies can mediate between binary stances.
Location
Page Not Found
Boekhorststraat 126, 2512 CT The Hague, Netherlands
Location
Page Not Found
Boekhorststraat 126, 2512 CT The Hague, Netherlands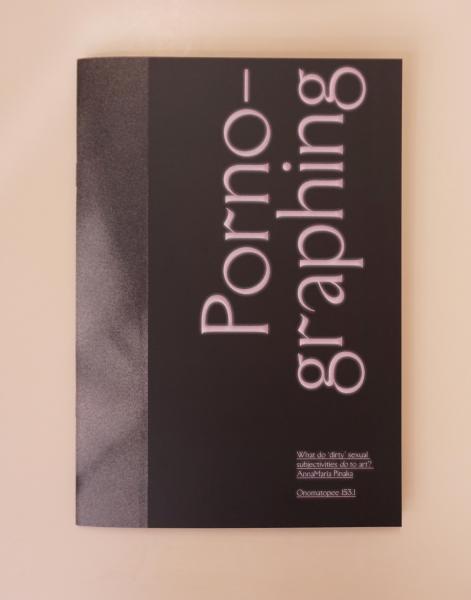 December Saturday 9, 2017, 15:00 - 19:30 / Book launch, Filmscreening, Talk / lecture
'Porno-graphing' - zine launch & event with AnnaMaria Pinaka
Saturday December 9
16:00 Be welcome, grab a drink
16:15 Introduction by AnnaMaria
16:30 Screening of The Blue Tape, 1979 (Kathy Acker, Alan Sondheim)
17:30 Presentation of Porno-graphing by AnnaMaria
18:00 Discussion with AnnaMaria Pinaka and Petra van Brabant
18:30 Official zine launch with drinks and food!
On Saturday December 9, AnnaMaria Pinaka will launch a zine that holds a part of her practice-based PhD thesis Porno-graphing: 'dirty' subjectivities & self- objectification in contemporary lens-based art. Next to Pinaka's presentation, a screening of the film The Blue Tape(1974) by punk icon Kathy Acker and artist and writer Alan Sondheim will take place. A discussion between Pinaka and porn-positive philosopher Petra van Brabandt will follow the presentation.
Publication
Onomatopee 153.1, AnnaMaria Pinaka, 2018
Porno-graphing - what do 'dirty' subjectivities do to art?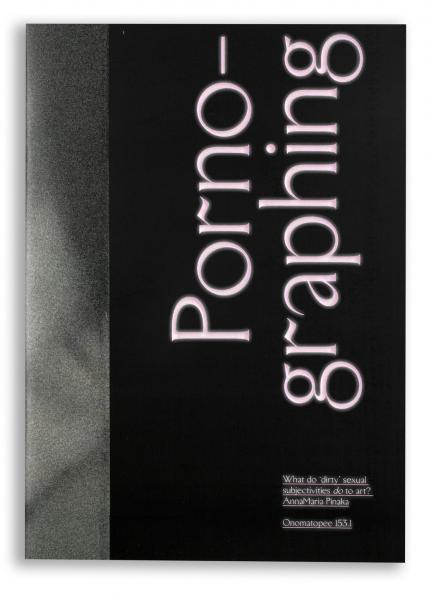 In her research, Pinaka uses the term porno-graphing to group together and examine lens-based artworks where artists use material sexual situations or sets of sexual dynamics present in their lives and independent of their practices, to make art. Pinaka considers how artists act upon these sexual situations, the art-results they produce, and their means of sharing them with an audience. These situations and dynamics share commonalities as they can be regarded as 'taboo' or 'transgressive'; also, in that artists use them to underline the 'dirtiness' or 'wrongness' of their sexual and artistic subjectivities. For example, Kathy Acker with Alan Sondheim, after recognising the sexual dynamic between them as work-material, they act upon it to make art (instead of treating it as  private enjoyment) and to do so they self-objectify into certain roles. In the Blue Tape, discussions of art, romantic love and phenomenology are talked-through video sequences of sexual stimulation and negation as a way of deliberating and reorganizing meaning and value.
Pinaka argues that in porno-graphing, artists negotiate how subjectivity, and its value, is produced by self-submitting into the 'dirtiness' of sexual and artistic positions. To approach the 'dirtiness' of these works as well as their processes, Pinaka uses, amongst other theories and strategies, the notion of 'queer negativity'.
AnnaMaria Pinaka was educated as a video artist, and developed her thesis in the department of Theatre, Drama and Performance at Roehampton University. Her research is practice-based; it involves creative work in performance and image-making alongside theoretical reflection derived from gender studies, queer theory and visual studies. Broadly speaking, Pinaka's focus is sexualised representation, and the development of a visual language that borrows in part from the rhetorics of pornography, but which also relates to the visual arts that focus on the intimacy of private life, the lived ordinary, the ecstasies of the everyday, lack of spectacularisation and the aesthetics of banality.
Type

softcover

Dimensions

148 x 210 MM / 5.8 x 8.3 inch

Pages

40

ISBN

978-94-91677-8-16
Editor

Pernilla Ellens, AnnaMaria Pinaka

Author

AnnaMaria Pinaka

Graphic

Mook Attanath
Language

English

Binding

stapled

Color

full color

Image specs

8 illustrations, of which 5 full-colour and 3 b/w
Photography of the book

Blickfanger

Curator

Pernilla Ellens
more specs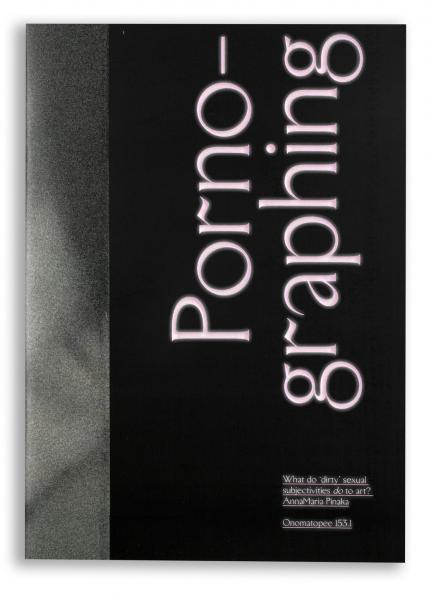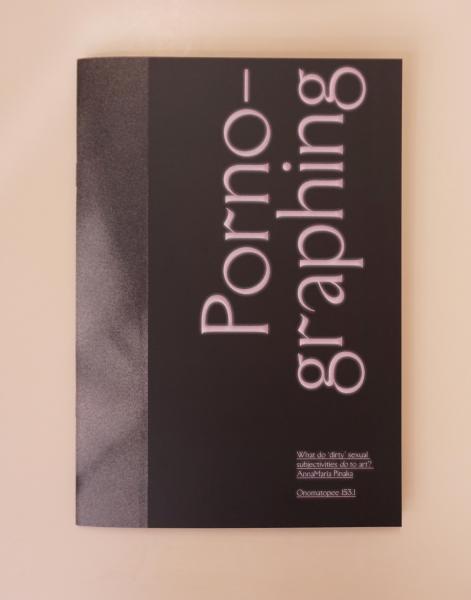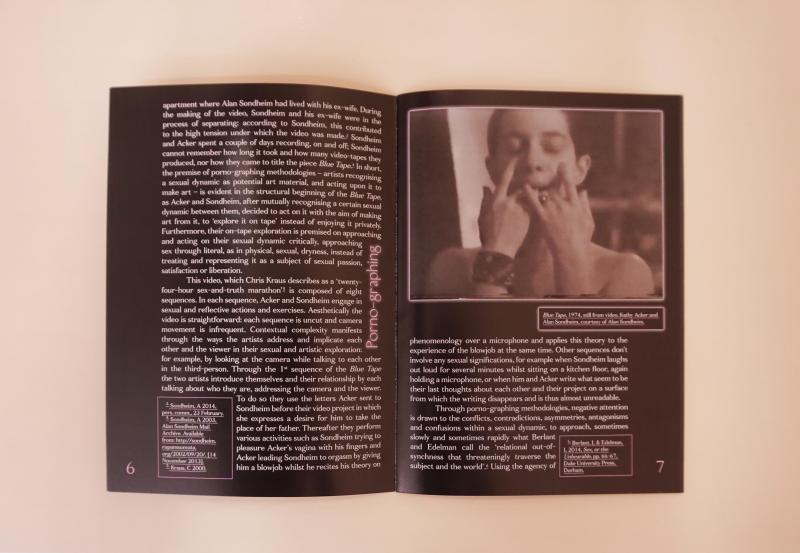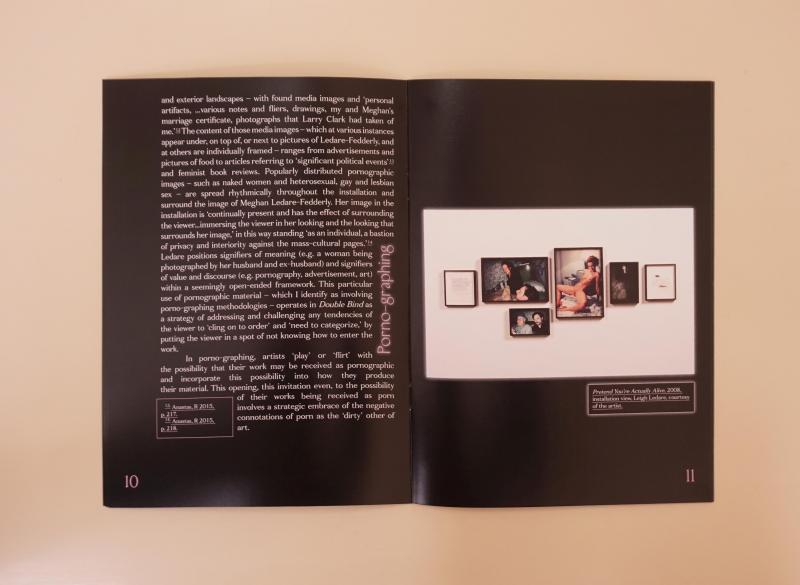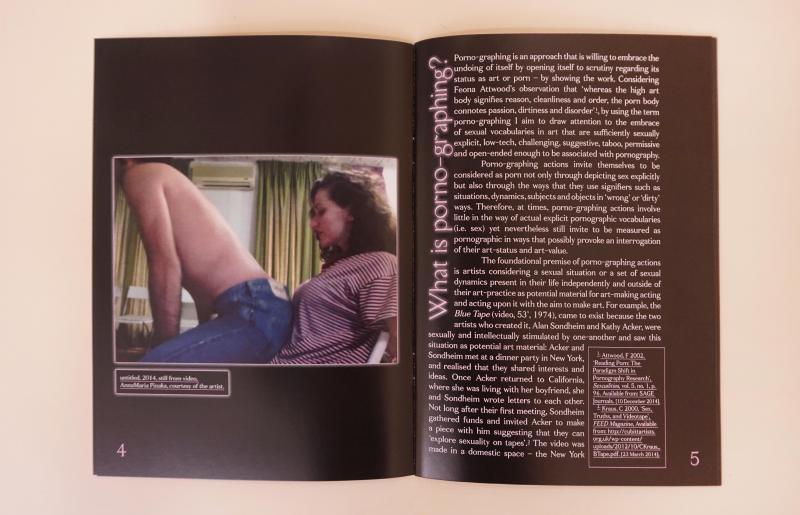 PEOPLE INVOLVED IN THIS PROJECT AND ALL THE ROLES THESE PEOPLE EVER HAD IN ONOMATOPEE PROJECTS