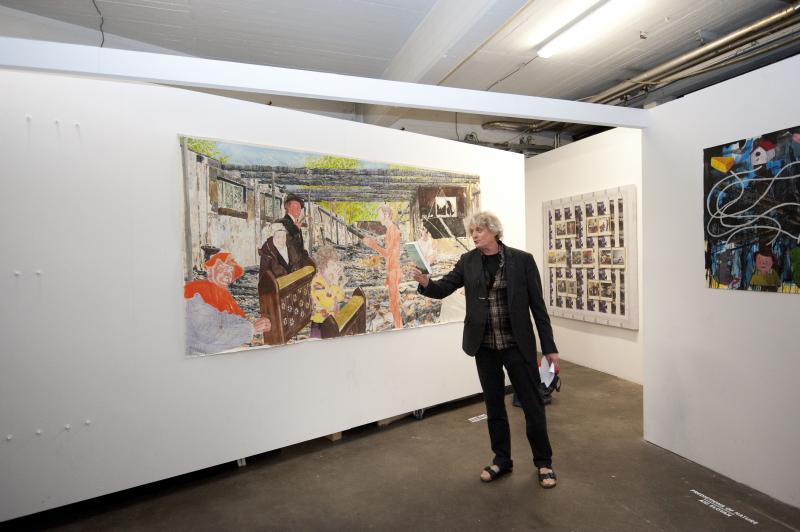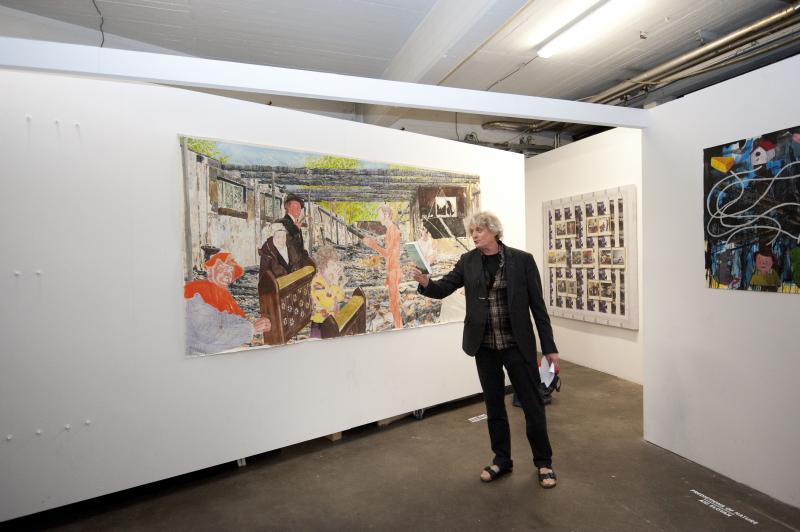 Peter Vermaat performing his poem on Pedro Bakker in front of Pedro's work, during the 2012 Onomatopee exhibition 'Who told you so?! #4 Truth vs. Family'
Agenda
March Saturday 30, 2019, 13:00 - 17:00 / Book launch, Performance, Super book, Talk / lecture
Super Book Saturday with Decoding Dictatorial Statues, China Girls, flash fiction workshops and Criticism in the City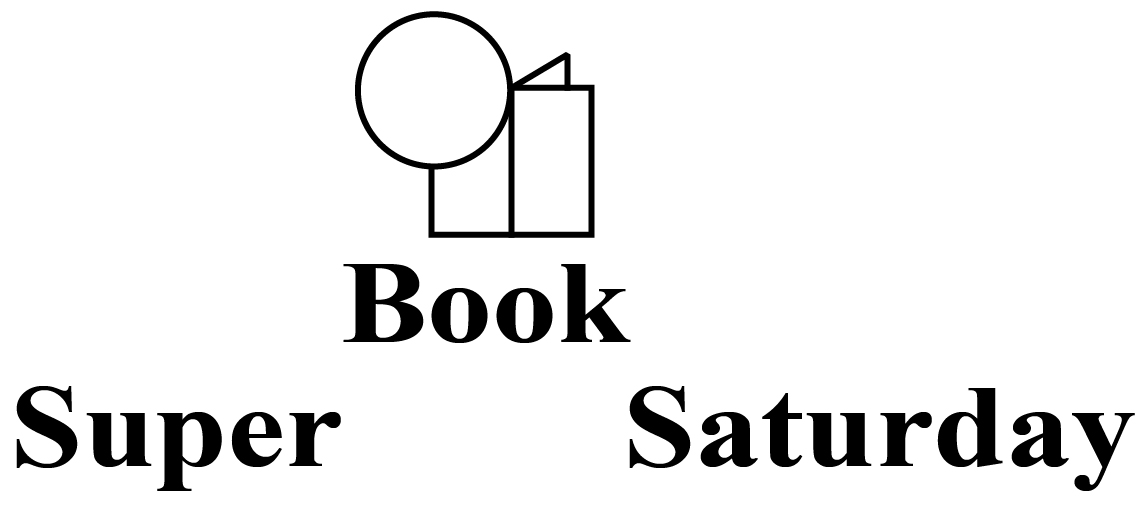 On Saturday 30th of March from 1-5pm there will be a selection of launches and workshops related to printed matter at Onomatopee.
This month's Super Book Saturday will feature the launch of Ted Hyunhak Yoon's book Decoding Dictatorial Statues. Ted will introduce the collection of images and texts that revolve around the different ways we can look at statues in public space. The launch will coincide with a performance.
Then during a 20 minute talk the artist Pedro Bakker will discuss his publication Innocent under the title: How innocent to draw 'China girls'? Bakker will be joined by the artist Mickey Yang who will interview him about the concept of 'China girl' used in his art while questioning if the title of David Bowie's song is an objectionable post-colonial concept.
Towards the end of the day, from 3-5pm, students from the Design Curating & Writing Masters at the Design Academy Eindhoven will be running flash fiction workshops. Inspired by ordinary muses, like Bic pens and callipers, you'll write 55 word stories that will be compiled into a small Riso-printed publication. If inspiration is lacking, the students will guide you on how to choose a muse that suits you.
Eindhoven Footnotes will also de distributing their zine Criticism in the City for free on the day. The permeant research space will also be open for those interested in exploring the relationship between technology and citizenship through objects and acts.
--- about the participants ---
Ted Hyunhak Yoon (b.1987) is a graphic designer-researcher based in Seoul(KR)∙Maastricht(NL). He graduated from MA Visual Communication, Royal College of Art in London, UK. From April 2017 onwards, he is a participant of a residency programme in Jan van Eyck Academie, Maastricht, Netherlands.
Design Curating & Writing is masters course rooted in the practice and performance of research through, about, and alongside design. It pursues a high level of quality, criticality, rigour, and depth in the act of research.
Location
Onomatopee
willemstraat 27
5611 HB Eindhoven
Location
Onomatopee
willemstraat 27
5611 HB Eindhoven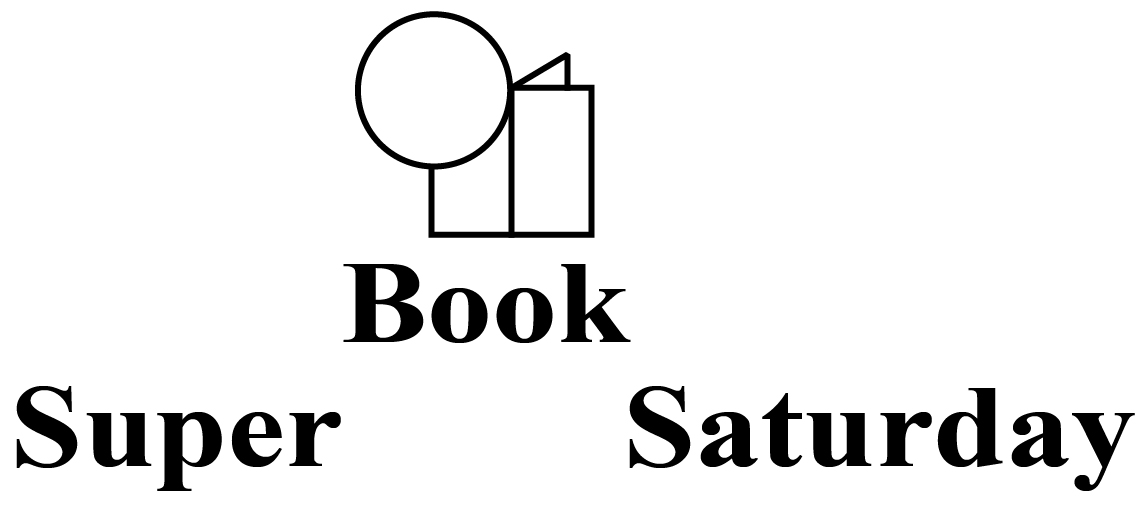 March Saturday 5, 2016, 16:00
Book launch Onomatopee 107 INNOCENT by Pedro Bakker
Publication
Onomatopee 107, Pedro Bakker, 2016
Innocent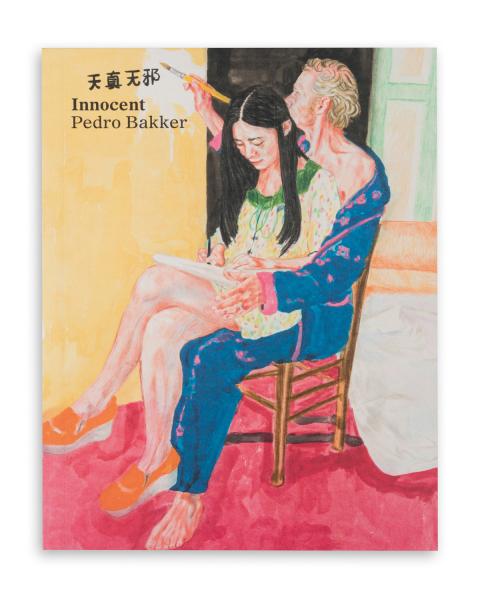 Behind every door is a story. What if the battle between good and evil gains a face? What if it is waged in your mother's face, the personification of love itself? And what if the paternalistic state gets involved?
As gripping as a dramatic family novel, this book unfolds as a hybrid between an autobiographical and cultural-political quest. Artist Pedro Bakker thoughtfully illustrates the dangerous tension between love, power and powerlessness. In figurative reflections on human relationships, political relations and his own life, he tries to come to grips with our involvement in questions of guilt and innocence, precisely where the line demarcating the two becomes tremulous.
Some things are too fierce to be articulated; we are expected to remain silent about others, and sometimes we are too afraid to speak. We humans are often too small to rise to that. The artist aims to go beyond this. Visually, the artist processes a diffuse reality, at times even distorted, which seems removed from common sense.
Pedro Bakker is such an artist. He does not shy away from irrationality, or from the devil on our shoulder, whose tendency towards lust, love and aggression threatens to drown us in a normlessness, which contains the threat of an egocentric turn from our compassion and our social understanding.
///
Editor: Pedro Bakker
Editorial advisors: Hanne Hagenaars, Jelle Bouwhuis, Freek Lomme and Harry Bloch
Texts: Hanne Hagenaars, Jelle Bouwhuis, Freek Lomme and Laurens ten Kate
Graphic design: Harry Bloch and Jacques Borel (Rollergirl)
Made possible thanks to:The Mondriaan Fund, Fonds Kwadraat and Voordekunst.
Type

softcover

Dimensions

280 x 210 mm / 11 x 8 inches 

Pages

192

ISBN

978-94-91677-53-3
Editor

Pedro Bakker 

Author

Hanne Hagenaars, Jelle Bouwhuis, Freek Lomme and Laurens ten Kate

Graphic

Harry Bloch and Jacques Borel (Rollergirl)

Artist

Pedro Bakker 
Language

English and Chinese

Binding

Otabind

Paper

Lessebo design 1.3 natural 300 gr. (cover) and 130 gr. lessebodesign 1.3 (inside)

Edition

1.000

Color

full color

Printer

Art Libro / Drukkerij Roelofs
Translator

Mels Dees, Mike Ritchie, Alana Gillespie and for Chinese Wu Qianxi

Proofreader

Alana Gillespie
more specs